Hey gang! I'm super-excited to have my first guest post on home decor! Kathy Joe is a blogger from the UK, and she reached out to me a couple of weeks ago about writing for my blog. She's a funny gal with some great ideas, so please, enjoy her post!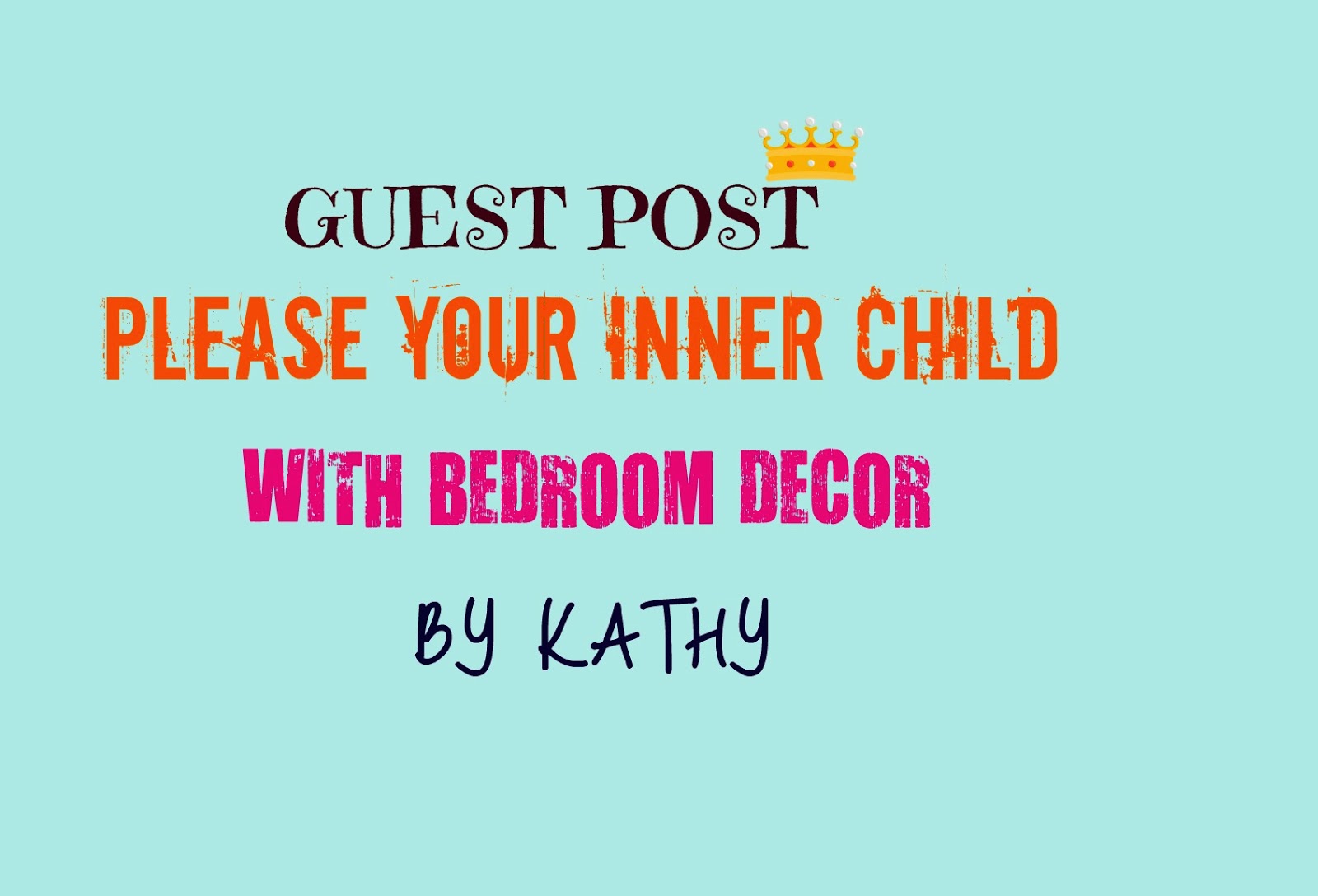 A big hello to everyone! People call me Kathy Joe and they also call me as a decor fanatic. The reason is that I have come a long way with my passion to jazz up everything! I am extremely cheerful to be a guest here. Jennifer is a wonderful being for letting me do this. Please come visit me here.
Does your inner child cry out for a funky, welcoming and, let us be brutally honest here, childish bedroom? Do you reluctantly turn away from the soft furnishings and furniture in the children's section, looking desultorily through the adult offerings with a glum resignation? If this sounds like you it is time to give your bedroom a guerrilla make-over dipping deep into your past likes and fancies! It is possible to make your bedroom look as though it has been created for a younger version of you without guests assuming they have stumbled into a real child's room – which can be very awkward on a first proper date…
Polka Dots
Get dotty with your curtains! Polka dots are both cheerful and colourful, providing a subtle nod to childhood without being over the top, over-childish or sickeningly twee. Polka dot curtains can be made to measure for your bedroom, which means that you can choose exactly the right colour combinations to suit the rest of your décor.
Invest in a brightly coloured and gently clattering beaded curtain. Beaded curtains are usually used in place of a door, but they work well near the windows too. Having streams of beads flowing from the pelmet not only looks wonderful and sounds great (do make sure that you choose solid plastic beads as hollow or metal ones will make a dreadful noise with every passing breeze!) but will recall the many happy hours spent running your fingers through boxes of beads and buttons – oh, you know you did it, we all did!
Splurging in children's curtains
Allow mythology a place in your décor scheme, either in the form of small ornaments or in the curtain fabric. While most girls outgrow their love of unrelenting pink by about the age of eight or nine, their love of unicorns and rainbows will last forever! (**Amen! ~Jen**) Splurge on some fabulous rainbow curtains to instantly boost and brighten the bedroom and your mood! For naive and chic children-themed curtains, my ultimate favorite place to grab them is Yorkshire Linen Co.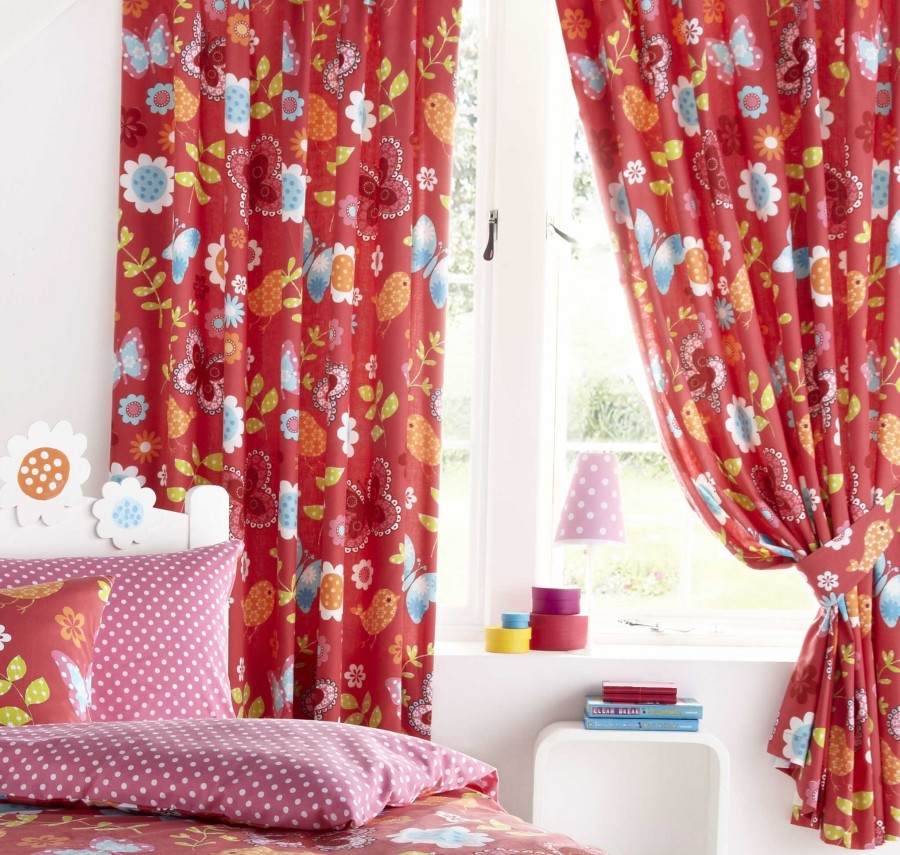 Quirky Curtain Rings
If you are a bit shy of hanging bright and jaunty curtains, or feel that they are too 'young' for your bedroom, why not brighten up your regular 'grown-up' curtains with some quirky and appealing curtain rings? Buy a couple of packs (you will find them online or at most home décor outlets) and set to work adding a subtle but cheerful touch of youth to your bedroom curtains! For kinky and interesting curtain tie backs, I am a huge fan of Tie Back and Trim.
Letter It All Out
Go back to grade school with some vibrant alphabet curtains! With the immense range of fabrics available today you will be able to choose the fabric carefully to achieve a quirky look rather than a babyish theme. You can even buy plain curtains and letter them yourself, placing the letters in a way that is attractive and appealing to you.
Funky Tie Backs
Again suitable for those who do not want to make too much of a child-like splash in the bedroom, tiebacks are discreet yet visible, allowing you to indulge in a trip down memory lane without being too obvious about it.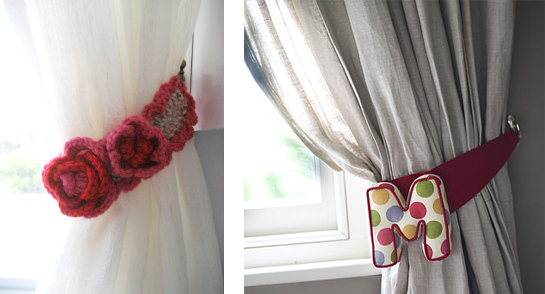 Think back to what made you feel happy and secure as a child, especially as regards to your bedroom and home. You are trying to capture the essence of childhood, secure, happy joie de vivre without retaining any of the immaturity of that time.
Thanks for the great ideas, Kathy Joe!
What youthful decor do you want to incorporate into your bedroom?