It's been birthdaymania at our house this month. My husband and I celebrate birthdays 3 days apart, then 2 weeks later, we have the kiddo's big day. In my life, birthdays have always been a Very. Big. Deal. My mom would bring us McDonald's at school to have a special lunch with us on the day, and she always planned fun parties for us, regardless of our age. In fact, I just found the tape (yes, cassette) of MY 4th birthday party, where our favorite kidertainer, Audrey, brought her guitar and sang to us. Unfortunately, I need to hunt down a cassette player to hear it, but how cool is that?
On top of wanting to make it a special day, we weren't able to have a 2nd birthday because kiddo came down with some mysterious contagious rash/virus thing that caused a 1 1/2-week quarantine. We still baked cupcakes together and opened presents, but there's something about having friends over, singing over candles, and just making the birthday girl feel special. So this year, I wanted to incorporate some of her favorite things into the party: the ocean, the color purple, and chocolate cake.
I did a lot of digging around and couldn't actually find much information on activities for a 3rd birthday party. There's a ton of inspiration out there (ahem, Pinterest) on setting a pretty snack table, but little kids don't eat a lot, so putting that much effort into overdone treats didn't seem worth it. So I'll share our experience and hope it helps you plan your party for your little one(s).
First step: Design the invitation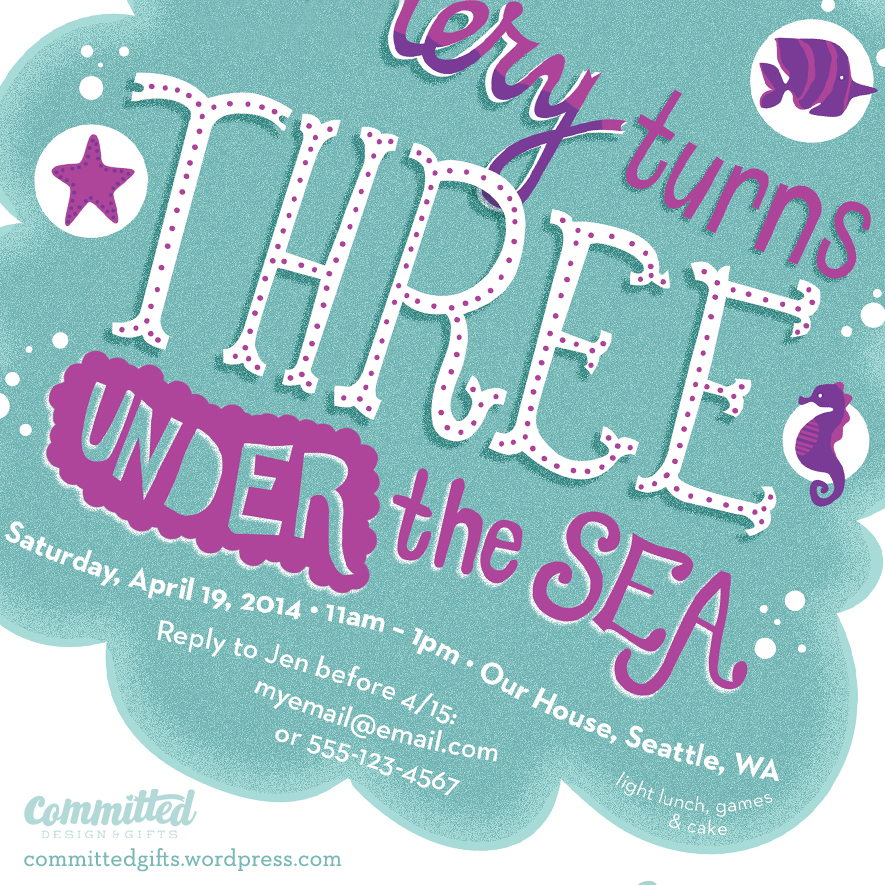 Second, plan the activities.
We kept it extra simple. Every kid had one or both parents there, which was so nice to get to actually talk with other parents! Here's how the day played out:
Guests arrive. Decorate cardstock fish (my friend kindly cut these out the night before, just a simple fish shape). We provided crayons, glue sticks, glitter glue, stamps, stickers, confetti, scissors, crepe paper streamers, and origami paper to decorate. Offer drinks and access to food whenever anyone wants.
We put two low tables together in the living room, which was used for crafts, lunch, and cake.
Eat snacks or lunch, free time. Play with balloons and share toys.
Gather everyone for cake
Play fishing game with decorated fish
Hand out goody bags for "catching" fish
Say thanks, and goodbye!
Two hours (11am – 1pm) was perfect for this age group. Everyone was engaged and having fun until the absolute last minute, when the meltdowns started to happen. Most of the kids in this group tend to nap in the early afternoon on the weekends.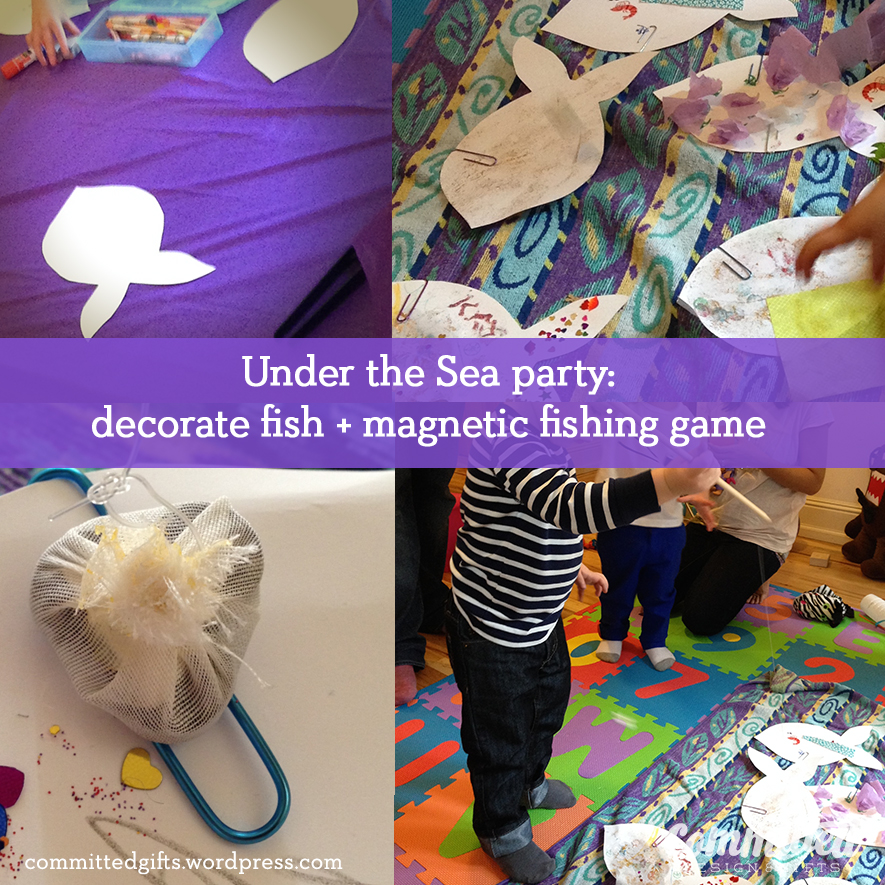 Magnetic fishing game.
This is so easy. Materials: paper clips, paper fish (you can cut your own!), dowels, string or fishing line, magnets ("O" shaped work best)
Attach a paper clip to each fish
Tie magnet to string (the "O" shape makes it easier. I had very weak disc magnets on hand and had to make little sacs of 3 to be able to lift the fish).
Tie string to the dowel, about 2′ in length
Go fish!
We made 4 fishing poles so several kiddos could fish at once. It kept them busy for about the last 10 minutes of the party, and when they "caught" a fish, they got a goody bag!
The food.
Like I said, there's a bevvy of information on adorable food ideas that are 90% sweets AND labor-intensive. I'm prone to signing myself up for these things because I love a project. But again, it's so not worth it when it comes to a bunch of toddlers and little kids.
LOVE these ideas, but not all in one day, and not all in the tummies of active 3 year-olds:
Menu:
Everything was buffet-style so guests can take as much or as little as they like.
PB&J sandwiches (we didn't have any allergies in our group), some cut out like fish for kids, others cut in half for grownups
Goldfish crackers
Strawberries, baby carrots, and mandarin oranges
Jello cups (my one creative indulgence: blue Jello with a little whipped cream and a gummy starfish or goldfish)
Swedish fish
Chips & salsa
Juice boxes and milk boxes, water, beer, wine, soda water for guests big and small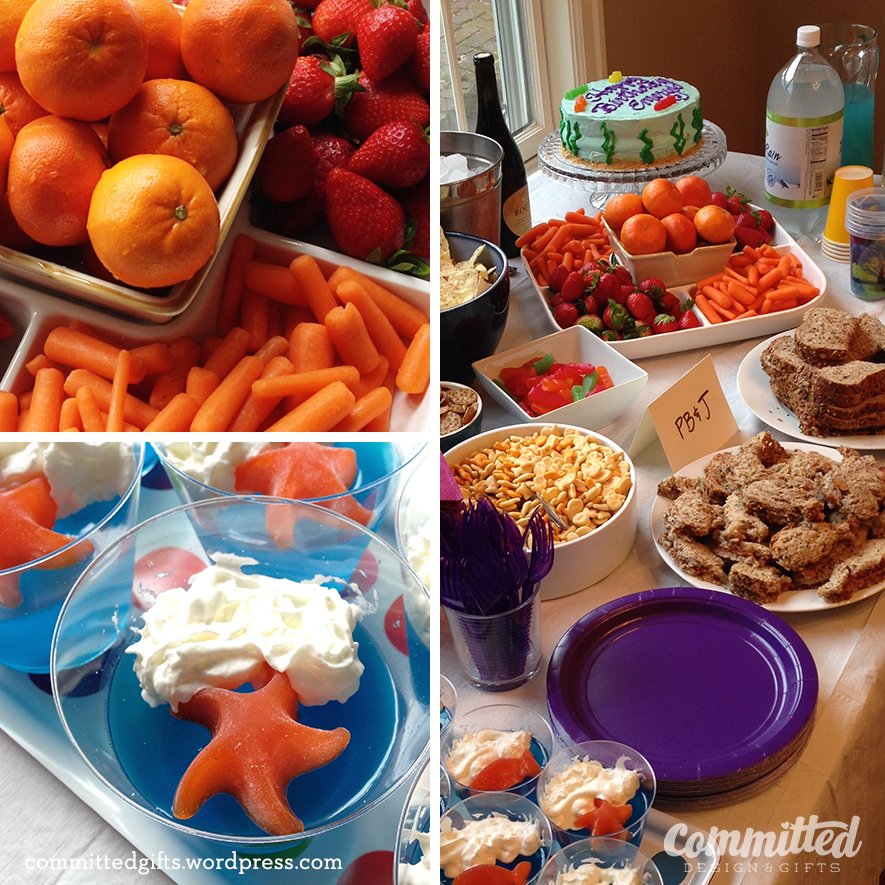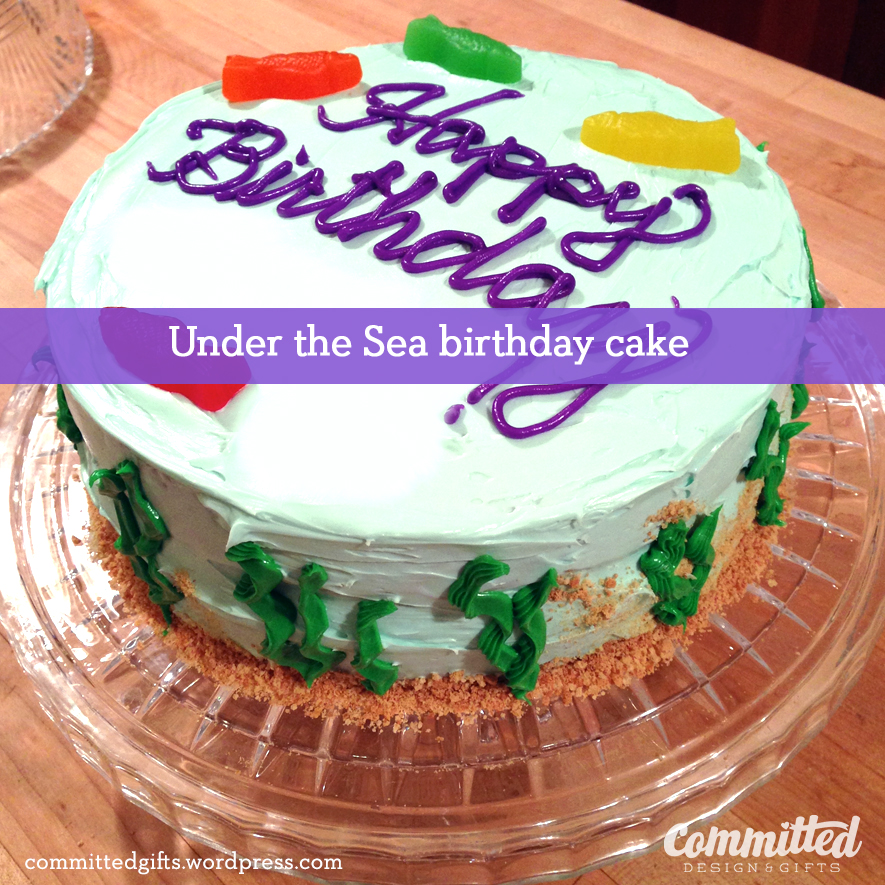 The presents.
Kiddo is a very thoughtful gift-opener, which means it takes hours, sometimes days to open her presents. While I wanted to express gratitude for any presents, I didn't want to torture a group of squirmy toddlers by making them sit through a lengthy gift-opening session. When guests arrived, I thanked them and explained that we were going to open presents after the party. Everyone seemed fine with that decision.
Decorations.
This was another indulgence for me. I went to a garage sale for an event space a month before the party and picked up paper lanterns, ribbons, cardstock, a big bag of purple balloons, and some other odds and ends. Kiddo loves jellyfish, and I had the idea to transform the lanterns into floating jellyfish by adding crumpled crepe paper and curled or wire ribbon. I simply taped the tentacles with scotch tape and hung with fishing line. Let me tell you, I love how they turned out! My 4 year-old neighbor told me I should keep them up all the time because "they're so pretty." 🙂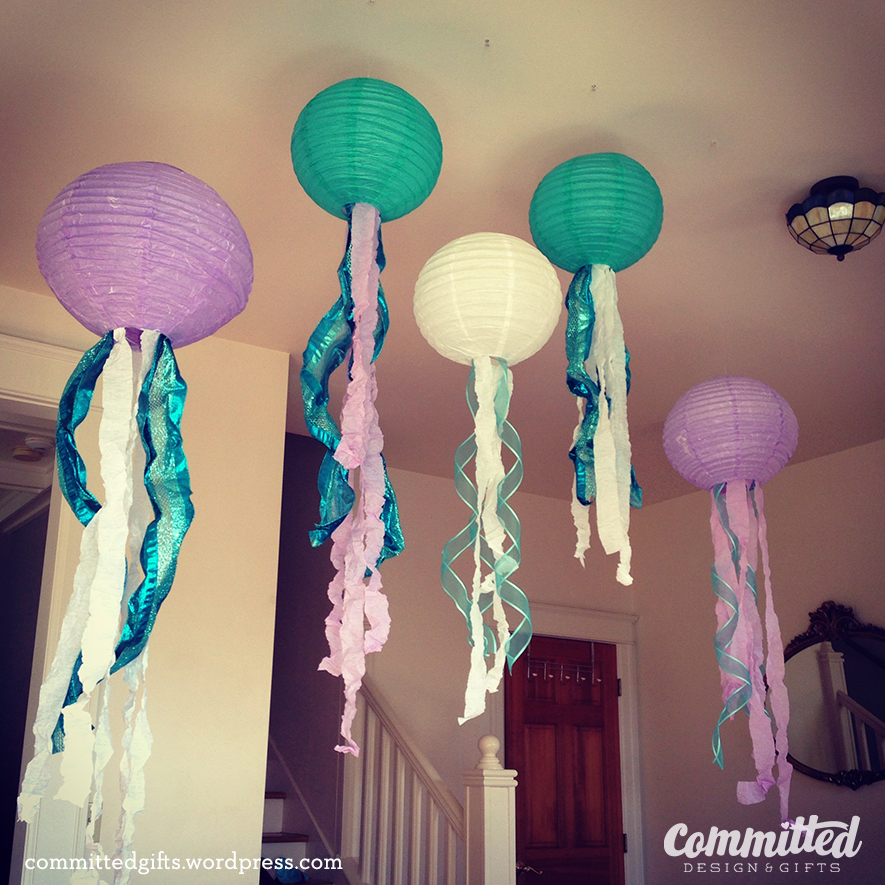 Goody bags.
Again, I kept it simple! I spent some time at the dollar store and grabbed everything they had that was ocean- or bath-related. I picked up small kraft paper gift bags (stamped with ocean-themed stamps) and loaded them with magic washcloths, bubbles, a bouncy ball, a small PlayDough container, a fruit leather, a Dum-Dum lollipop, and one of these bath toys (I bought the set and distributed among the baggies):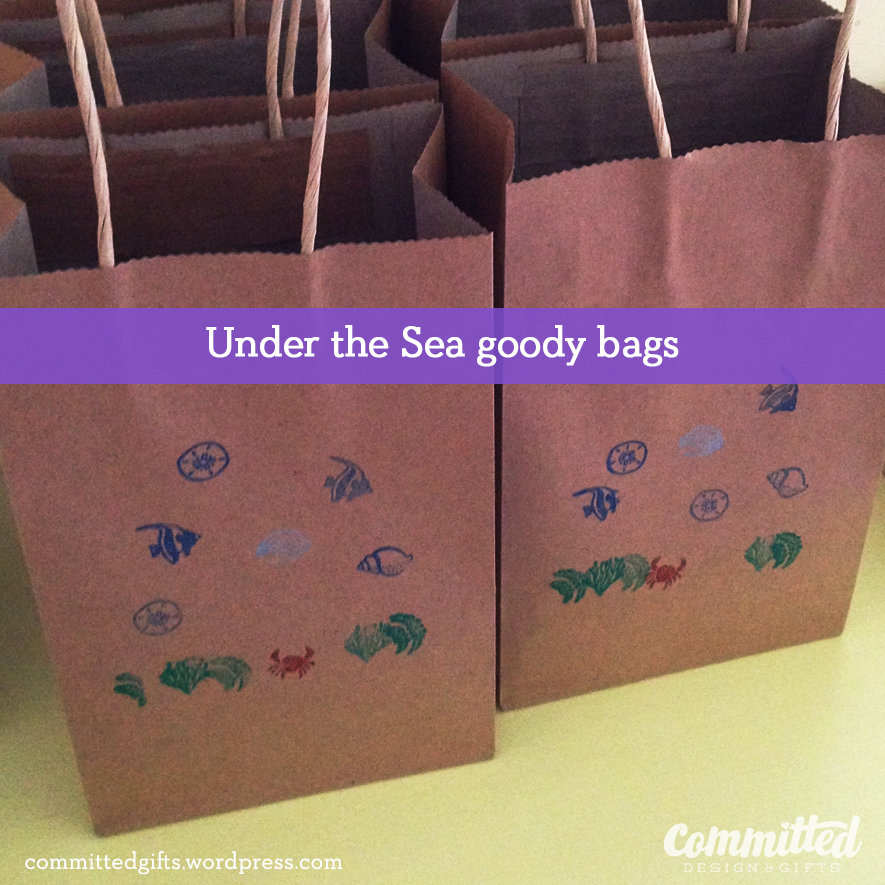 Overall, keeping the activities simple, and leaving the timing open-ended make it for a good time for kids and parents alike (I think!) We got to talk with some of the parents in our class, and the kids had a good time kicking balloons around and playing with stamps. When I asked kiddo what her favorite part of the party was (expecting her to say "playing with friends" or "catching fish"), she said "CAKE!" I guess chocolate trumps all.
Which is a good lesson: All you need to make a little kid happy is cake. The rest is just icing. 🙂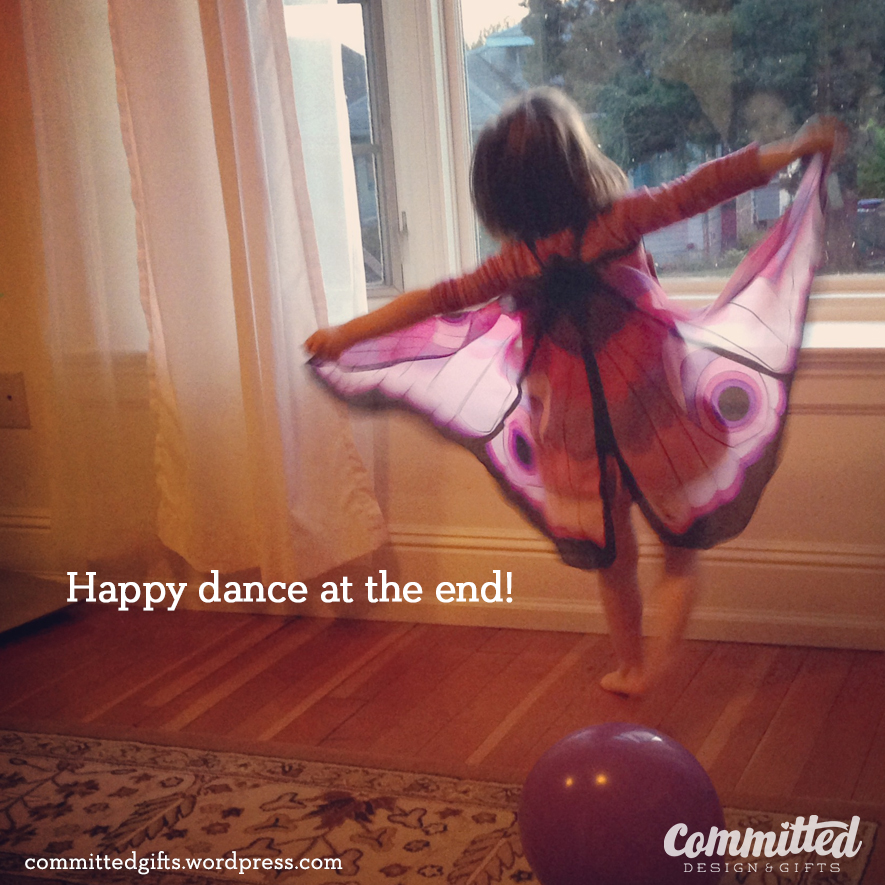 How about you, readers? Have you had successful birthday parties for little ones in your home? What worked best for you?
Linked to: