Necklaces:
Because our home has been utter chaos over the last week, I felt the need to assert some control over what I could. Ignited by that -AND- the need to do some spring cleaning, I tackled the rats' nest that was my jewelry drawer. I didn't want to spend any money, and use whatever I could find lying around, so I came up with this: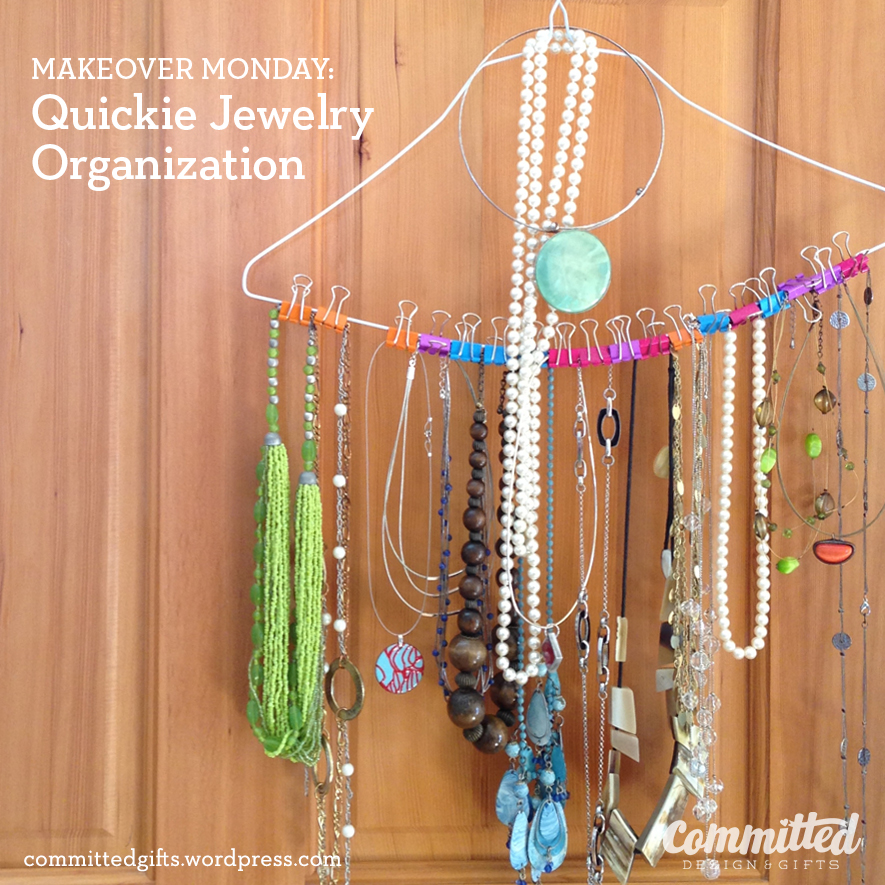 It's not ideal if your necklaces run heavy (I had a stone bead piece hanging in the middle, which made it bow), but for the little chain necklaces that are just dying to tangle up, this is great. Also, I'm not going to keep this hanging on the back of our door, because how annoying would that be? Clang! Bang! Every time you open the door…no thanks. It's in our closet.
Materials:


– Wire hanger
– Binder clips
Time: 5 minutes
Close all your necklace clasps, clip individually along the hanger. Don't clamp the necklace itself—close the clip around the chain. Tighten the "hook" part of the hanger so it doesn't open up under the weight of your precious jewels. The longer strands or solid-shape necklaces can just go over top of the hanger. Hang! Done!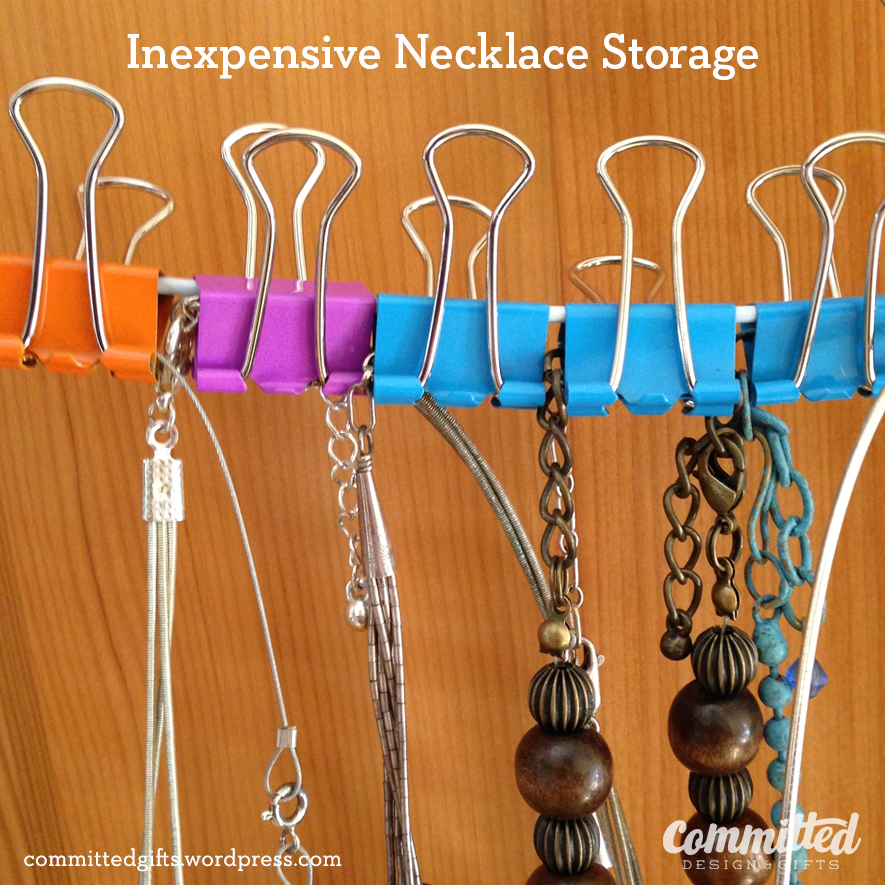 Bracelets
The other bit I needed to tackle was the bracelets. I had them all thrown in a drawer (with the necklaces), and I'd forgotten about a few I had. It's no good if they never get worn!
I was cleaning out the bathroom and linen closets, so I ended up with an extra plastic drawer organizer, originally intended for silverware. I think I picked it up at Target or Storables years ago. Anyway, it's the perfect size for baubles. Better, right?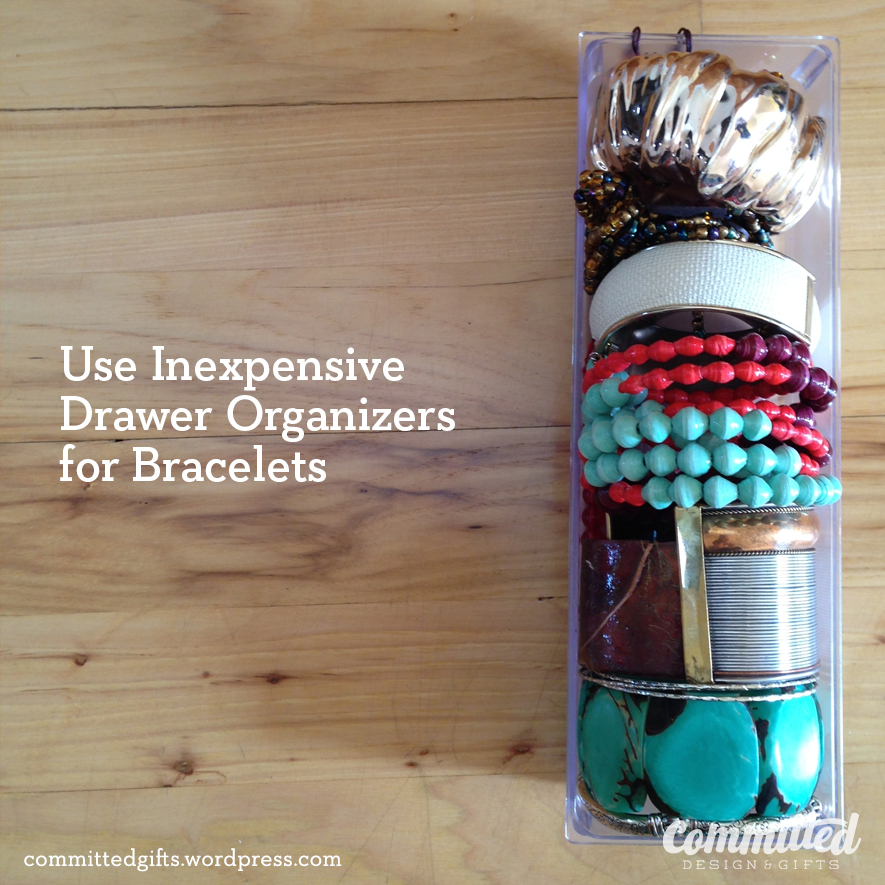 Truth be told, I've seen some lovely solutions all over Pinterest. But in the interest of time, I really didn't want to BUILD something new…yet. Plus, I can't access any of our tools as our basement is under de-/reconstruction. Here are a few ideas I find inspiring for the next iteration of organization projects: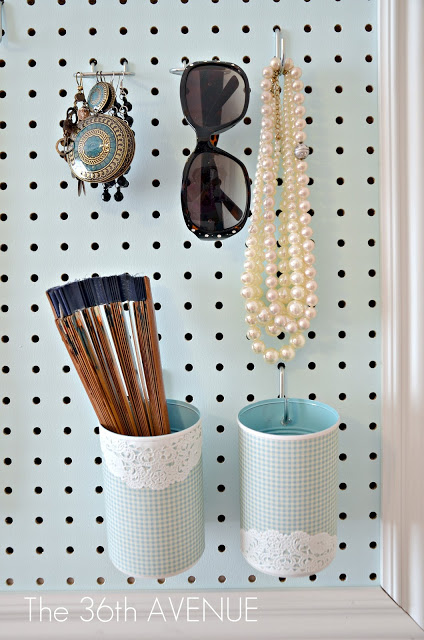 How has spring fever caught you? Are you working on any organization projects right now?
Linked to: