I've mentioned before that we moved into a 107 year old house last summer, right? Well, the family who lived there before did a renovation in the late 1990's…and that's where the house has stayed since. I'm hesitant to embark on any major updates since we're planning to do some renovations and upgrades soon and I don't want to make anything that will end up being ripped out in a couple of months, but there are a few things on the list that can become a project. Mostly because they irritate the hell out of me, but partly because they might end up being part of the new design. The biggest constraint is to keep the budget small…as in, miniscule. So this week's project was a small one, but kind of fun because I got to whip out my paints and experiment….
Upgrade the Shade
Our kitchen is pretty dark and has one small window facing North. The roller shade on it fits well and does the job to give us privacy from the next door neighbors but it was NASTY. Decades of dirty dish water spray and kitchen gunk discolored it. Plus, it was  a country-cottage style that I'm not terribly fond of. So, I decided to touch it up.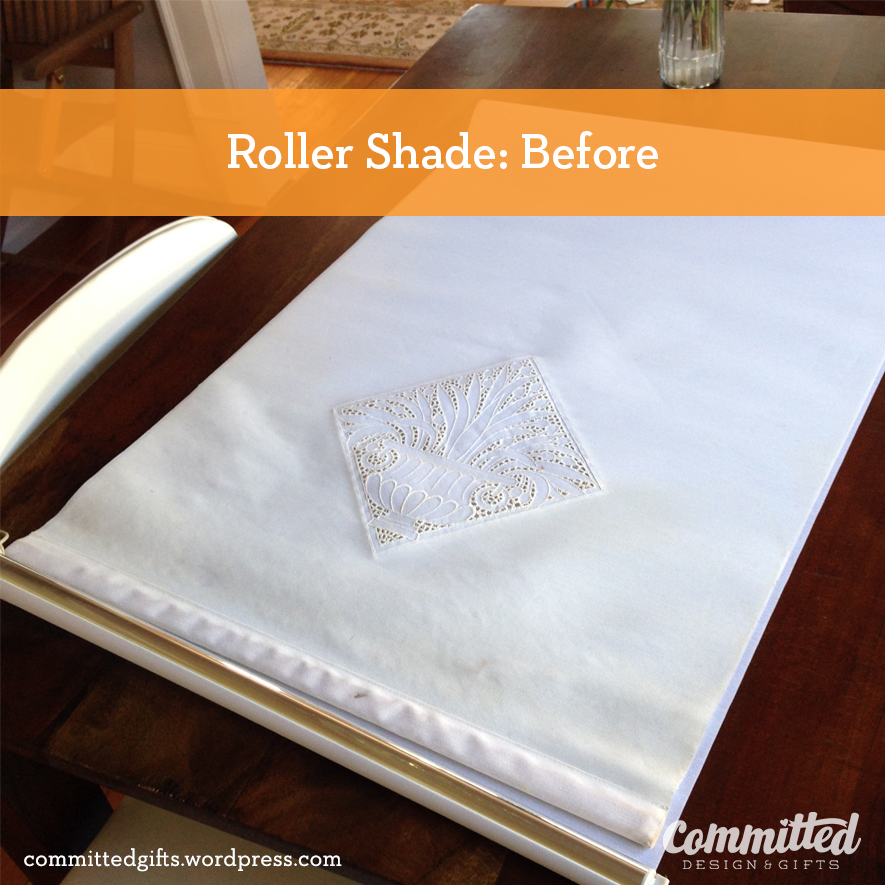 First, I took it down and checked if there was enough shade to trim off the dirty parts and start over. And yes, there was. I'd considered using spray adhesive and just sticking on a cute fabric (that I already had on hand) on top of it, but figured that would make the dark kitchen even darker. So the better option was paint.
The next step was experimenting.
I was considering various patterns, but wanted to see how paint took to the surface. I thought I could pull one of these off: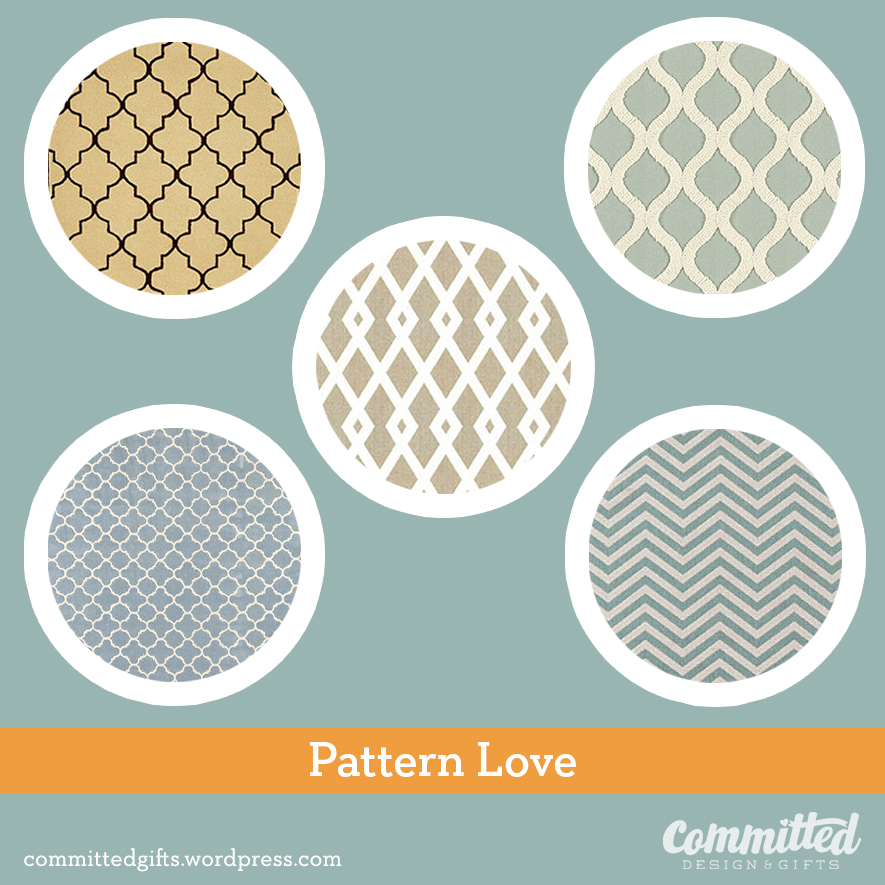 I had several canisters of sample paints left over from doing the walls in our basement, so I figured I could start with that.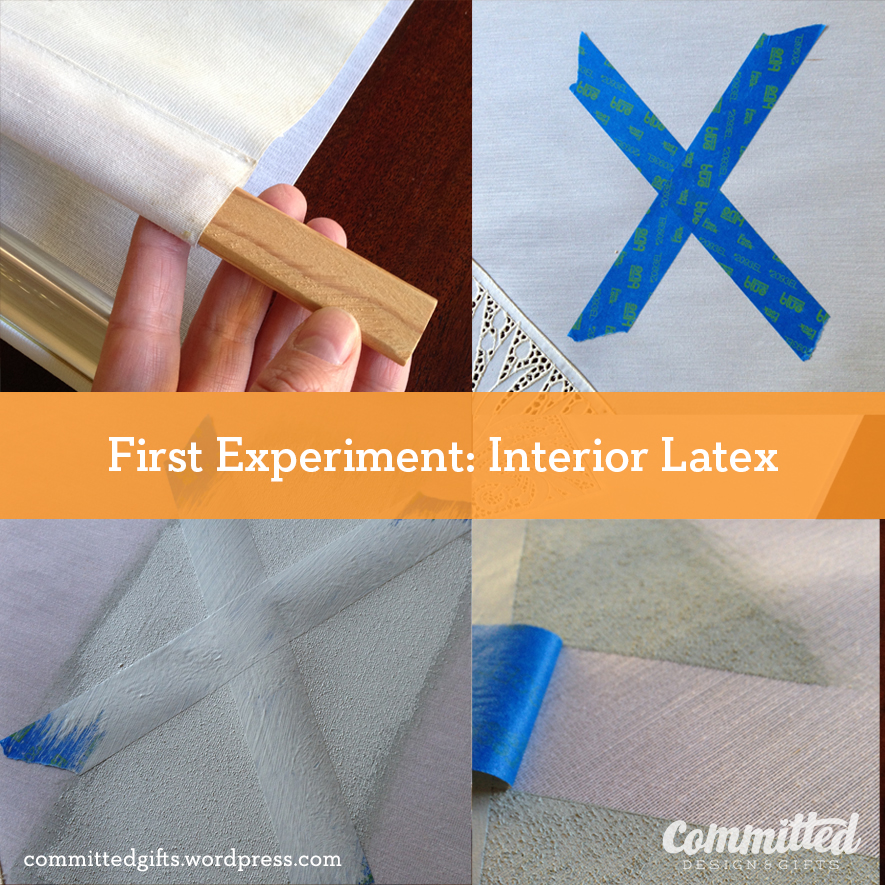 Aaaand, FAIL. Glad I tried it. It left an icky texture on the surface. Whatever that shade is made of did NOT like the paint. The edges came out nice, but ew. No.
So I busted out my craft stuff, some of which I've had since art school. I figured I'd give it a go with some screen printing ink mixed with silver acrylic. I added a medium retarder to hopefully thin it and allow it to lie flatter. That didn't do much, so in the end, I tried water. And boy, did it look cool!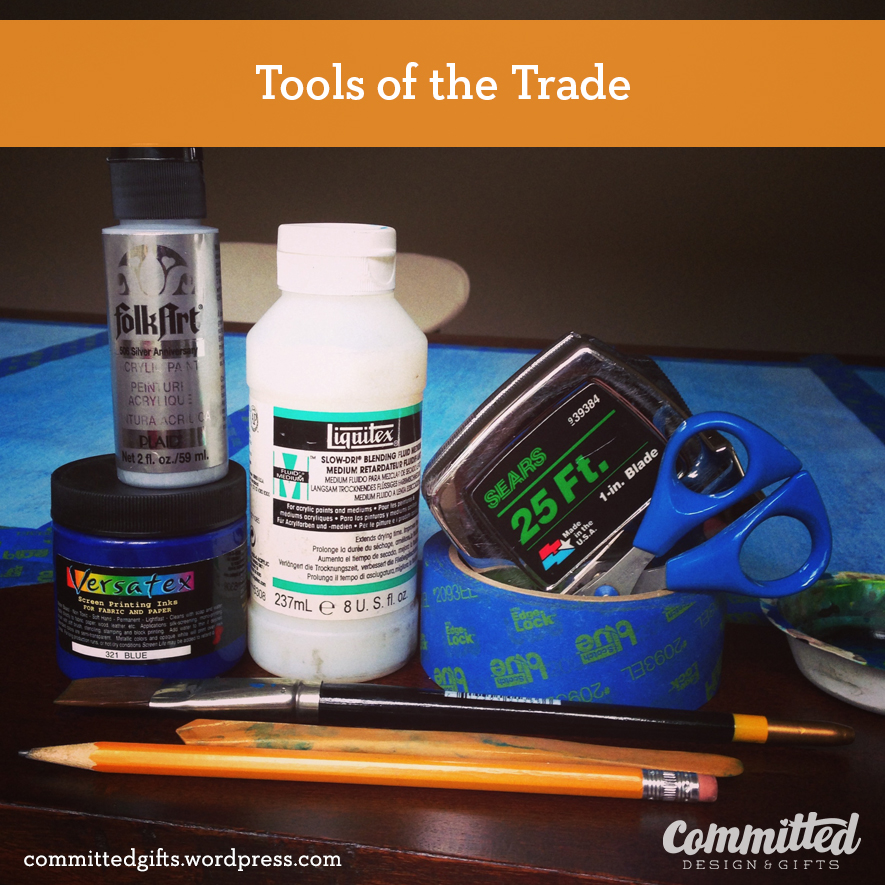 This was FUN, you guys. It's been ages since I've just goofed around with paint, not caring if it worked or not. I think by loosening up I discovered more. Publishing this picture is tough for me since it's not "perfect" painting. It was about loosening up! The water made a really cool texture on the fabric, and I really liked the bleeding under the painter's tape. I also realized that my freehand pattern idea was going to look pretty lame, so I decided to keep it simple.
I decided to go with simple blocks that would show the watercolor edges and since it was essentially watercolor, I could make an ombre effect.
I'll let the pictures tell the story of the process.
It came out even better than I thought it would (except for the crooked dowel!). It's got a cool handmade, mottled look and the uneven edges are not-too-uneven to look intentional. I'm glad I diluted the paint so we still get *some* light through the window with the shade down. Most of all, I'm happy that the county kitchen look is gone!
Do you have roller shades in your home? Would you try something like this?