How was fitness week? I'll say, the thought of embarrassing myself by NOT completing the challenge kept me on track (at least in terms of exercise). 3 fitness classes, 2 walks around the lake (~3 miles) and a 3.2 mile run this week. HOWEVER, I kind of ate my face off for no good reason. I wish I could blame it on holiday stress, but really, I don't have any excuse! Hormones? Boredom? Who knows?
Luckily, this week's focus is on making sure we get good nutrition & maybe skip that extra cookie because….
This week's challenge: be sure to get EIGHT servings of fruit or veggies every day!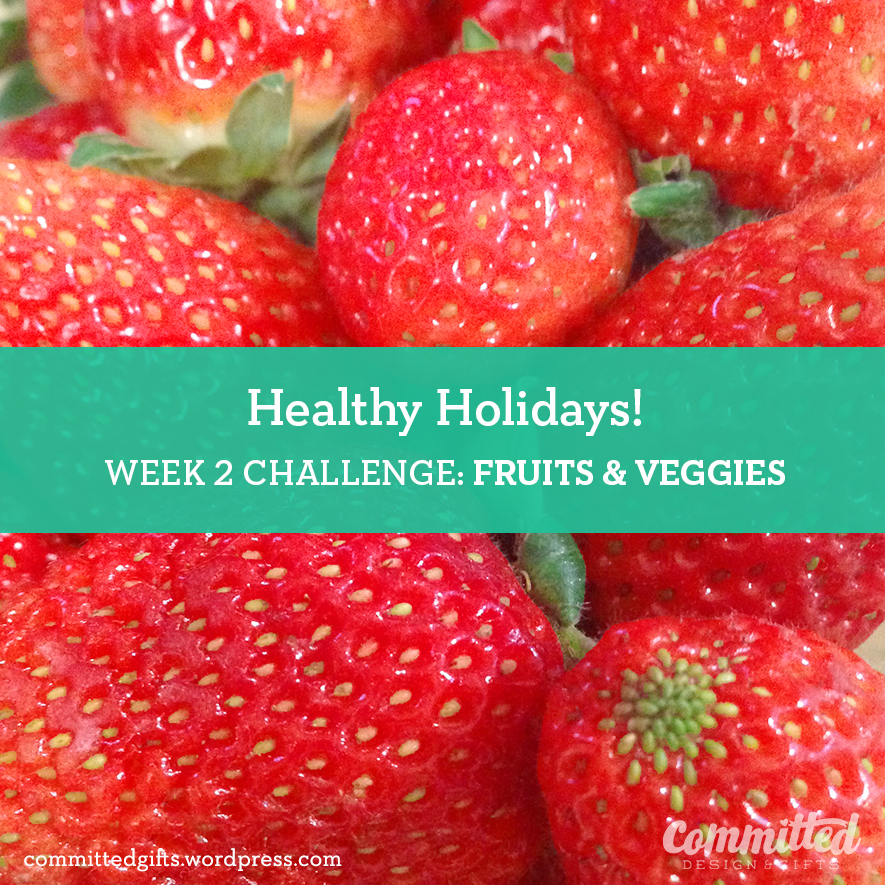 One serving size is defined as: fruit (1 med pc or ½ c cut), veggies (½ c cut), leafy greens (1 c ~ 4 leaves), cooked leafy greens (½ c), dried fruit (¼ c), dry beans or peas (½ c cooked).
I know, you're gonna say, "GIRRRRL? Am I just going to cram my face with celery all day? That's no fun!" Not at all, my friend! It's actually not so crazy, and it's not DENYING you anything either. If you want cake, eat cake. Just know that you are still staring down the barrel of 3 more servings of goodness and might want to reach for an apple instead.
A reason for this week's challenge is it's so easy to eat crap, which leaves you at a deficit for vital nutrients. And guess what happens when you're stressed out, eating junk, and trudging through the cold? You get SICK! Ever gone through the holidays with a cold or flu? Now THAT is no fun.
I admit, I did not buy into this challenge the first time we did it, but over the years I found myself craving fresh fruit at the end of the week, instead of grabbing a slice of coffee cake. And not to sound like some hippie-dippy, wheatgrass-snorting veg-head, but your body really does feel so much better when it gets what it needs.
So, if you haven't already, Print out your pdf and write down what you're going to eat for the week.
And, if you need ideas of how work THAT MANY fruit and vegetables into your diet, here's a sample day:
BREAKFAST: egg white scramble with spinach and fresh pico de gallo and an orange (3 servings right there!)
SNACK: bell pepper slices with hummus (1 serving)
LUNCH: mixed green salad with chicken and an apple (2-3 servings)
SNACK: celery slices with peanut butter (1 serving)
DINNER: Side salad with whatever you're eating. Plus maybe some roasted broccoli on the side?
DESSERT: Go for it, if you have room! Maybe some Greek yogurt with fresh berries? Or ice cream if you're really dying for it. I won't tell.
SEE? Wasn't that easy? (I mean, if you have time to make that breakfast, of course).
What is your favorite go-to fresh snack?
Feel free to comment here, tweet, or pin your progress!
Cheers!
Please note: I am not a health professional. I am not a trainer or dietician. I am a fitness enthusiast. If you embark on a new fitness or diet regimen, please consult your doctor and pay attention to your body and health. This is a social challenge to encourage health and fitness through the holidays. Your choice to participate is not the responsibility of Committed LLC.