We are officially moved into our new house!
This truly is our "forever home," and all three of us are almost giddy every time we walk through the door. There are tons of beautiful features, but mostly it just feels like home. Know what I mean? It was one of those this just feels right kind of places. Another bonus? Projects! Lots of 'em! I'll be posting things here and there, since we hopped on the project train before even setting foot in the house as owners.
I don't know what spurred me on, but I had the crazy urge to get shit DONE before we moved in. I guess I just know how crazy and messy life gets with my projects and the toll it would take on the fam (sorry, guys…it's an addiction!) Plus, I had to promise to ONLY START A PROJECT WHEN THE OTHER ONE WAS FINISHED. This is hard. But I'm doing my best. Anyway, the first project was hiring a painter to do the trim.
Seriously, guys. It was pretty bad. Faux marbling, odd continuity choices, or total emission of paint/finishing altogether. I had 2 days available between getting the keys and getting the cleaners in, so we had to be choosy. I picked the trim in the front room, office, and sitting room. (OMG we have a sitting room! So fancy!)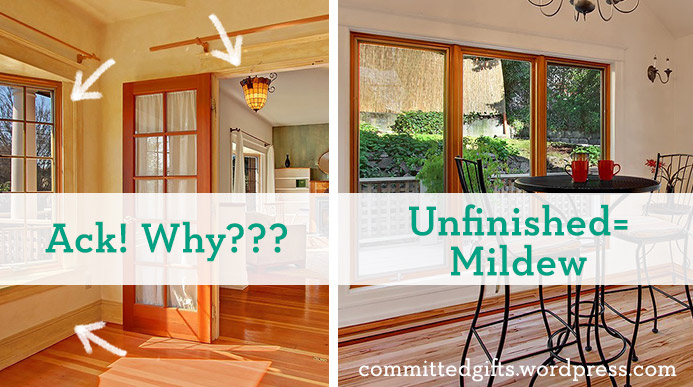 The pic above is just a teaser–I want to finish those a little more before posting pictures, but I thought you needed to see what we were working with. 
So this isn't a DIY tutorial about how to sand trim and windows, how to pop out the casing, tape things off. You all can look that up…trust me, it's on the Internet. This is just to show you what a difference a little neutralizing can do. The first thing I wanted done was to rip out the whole living room configuration. But the hubs talked me off a ledge and we figured out a smaller, much cheaper project so we could live with it for a while without me developing a twitch. Check it out: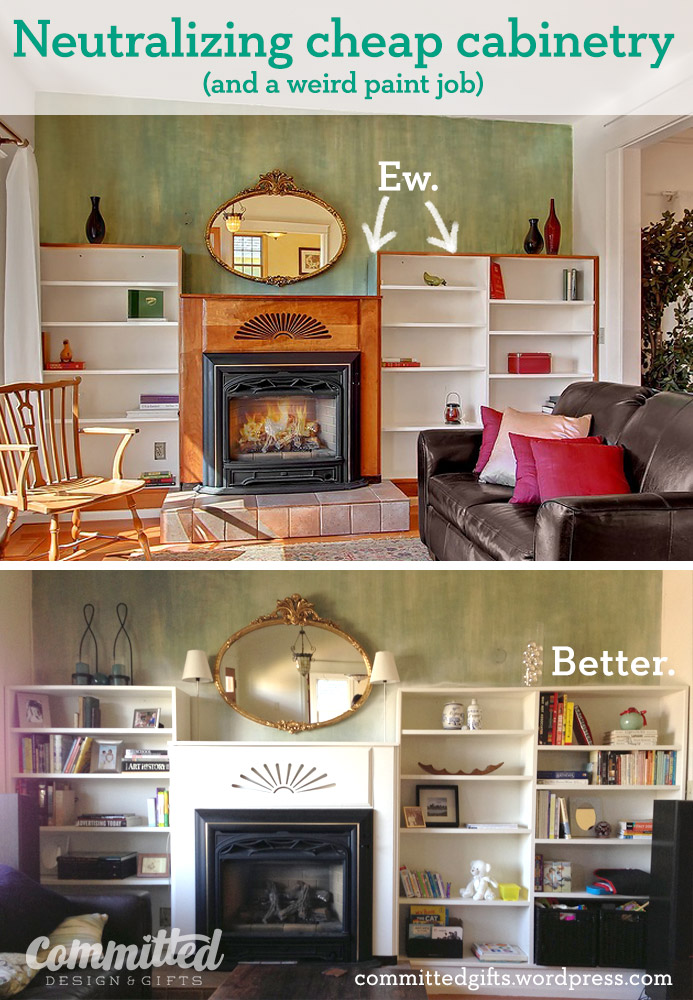 Originally, I was really put off by the green. I mean, they painted the SIDES of the bookcases that color. And by the way, the bookcases are just inexpensive 80's DIY boxes, screwed into the wall. Oh, and I didn't like the hearth. And I didn't like…well, any of it. Shockingly, painting the trim and the fireplace made it all look more "built-in" and clean! Don't hate on the painted fireplace–the woodwork was lovely, but dated.We didn't touch the hearth, but it also seems less intrusive now. Wow! The power of paint, y'all!
Don't mind the overspray on the wall–since we had only 2 days, the guys didn't tape the walls when they sprayed to save time. I'll be picking a wall color soon enough.
Anyhoo, I also grabbed a bunch of ideas from Pinterest on filling the shelves. The basic idea is to add accessories and photos to a variety of book arrangements.
After I finish hanging blackout drapes in my daughter's room (Project #1), I'll be painting the gold mirror frame white (Project #2, not to overlap Project #1). This piece came with the house, and I've been itching to get my hands on it. But priorities, right?
So that's my first post from the new house! Have you dared to paint over something and loved it?