I know, that doesn't sound super delicious. It harkens back to the sawdust-like biscuits trying to pass themselves off as real food. But, I tried it, and I'm convinced. They're scrumptious.
The hubby and kiddo have been on a baking kick lately, and per my request, they use wheat flour so I can't actually eat the whole pan of whatever they make (I have an autoimmune intolerance to wheat). But it's a cruel joke, because when you smell brownies, and see brownies all day, all you want to do is EAT FACEFULS OF BROWNIES. Like some kind of itchy addict. And, as a pregnant wheat-free mama, I NEED more fiber and WANT more chocolate in my mouth. So I trolled the internet for ideas and found these Blueberry Muffin Bites on MyWholeFoodLife via Pinterest.
Since I'm craving chocolate, I decided to go with a more chocolate-coconut flavor palette.
Supplies:
Food processor
Baking sheet (for the freezer)
Parchment or wax paper
1/4 c and 1 c Measuring cups
Measuring spoons
Recipe:
Pulse together dry ingredients until blended:
1 c gluten-free rolled oats
1 c almonds (raw if you've got them)
1/4-1/2 t sea salt (more if you want a salty flavor)
3 T unsweetened cocoa powder
Add wet ingredients and pulse together until blended:
1 t vanilla extract
8 dates
5 prunes
1 T coconut oil
1/4 c flaked unsweetened coconut
1/2 banana
If the mixture is too dry, add water 1T at a time and mix well
Mix in 1/4 c chocolate chips
Making the cookies:
Just scoop out about 1 to 1 1/2 Tablespoons of the dough, roll into a ball, flatten a little, and place on a parchment paper-lined tray.
Pop in the freezer for about 30 minutes to set up (they get a little metlty in the mixer), then refrigerate to enjoy!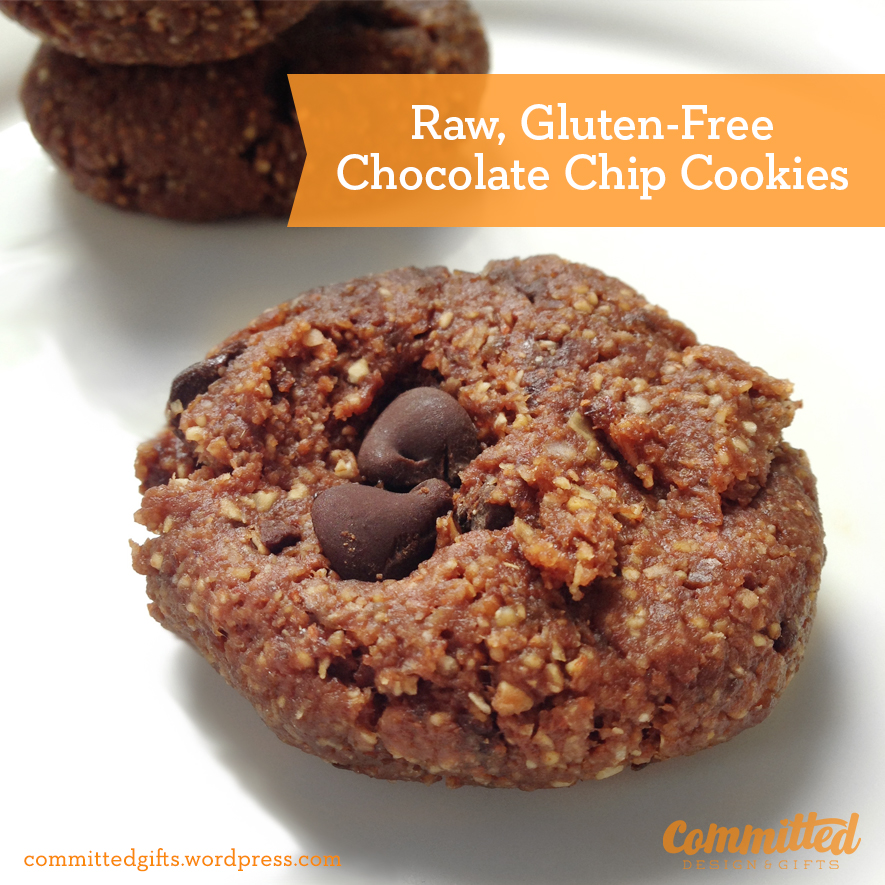 Time: about 10 minutes, plus clean-up. Makes about 12-14 cookies.
 What are some of your favorite wheat-free recipes? Post a link in the comments below!