We just got back from a two-week trip traveling through Spain with our 2 1/2 year old daughter. I know, poor me. But in the true spirit of being Committed, it did get a little crazy.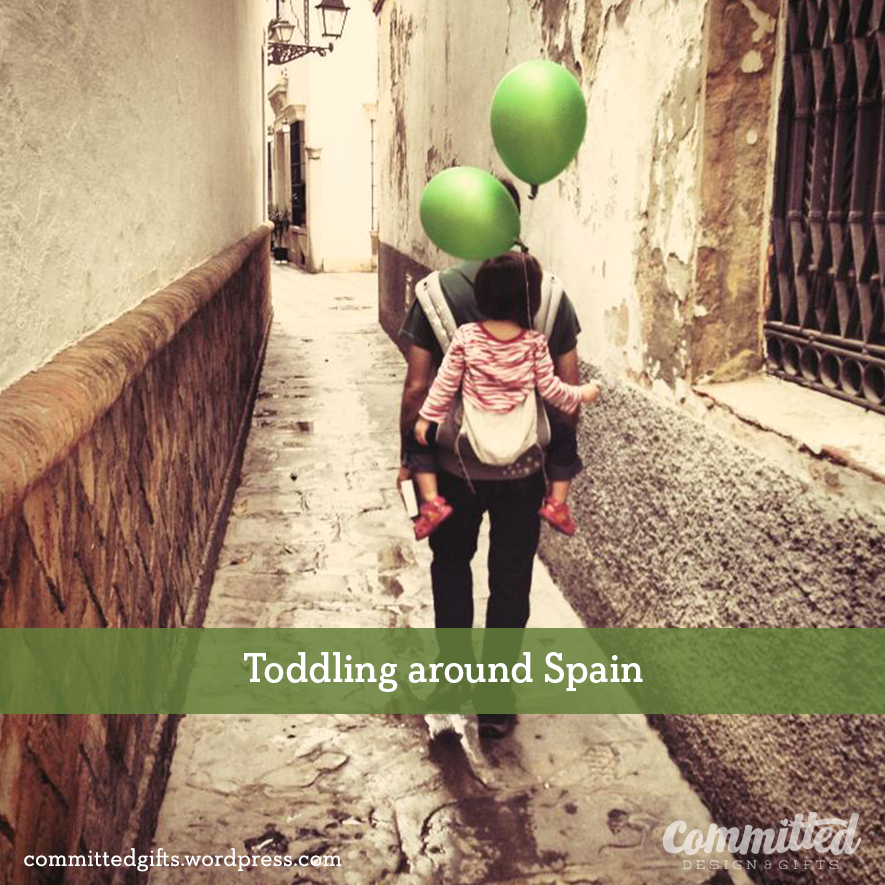 FIRST. 
I loved the trip. The architecture was amazing, the culture is admirable (drinking and eating all the time! Siestas!) The wine was cheap and delicious. Oh, the food…
BUT.
The kiddo was a handful. She may read this years down the line, so I don't want her to feel like I'm putting her down. It wasn't her fault–the 9 hour time difference was rough on all of us. And she's 2 1/2, which means discovering strong preferences, a desire for instant perfection (well, we never outgrow that, do we?), and just general upsettedness at basically everything. We thought her familiarity with travel might make things easier, which it probably did (but didn't feel like it at the time).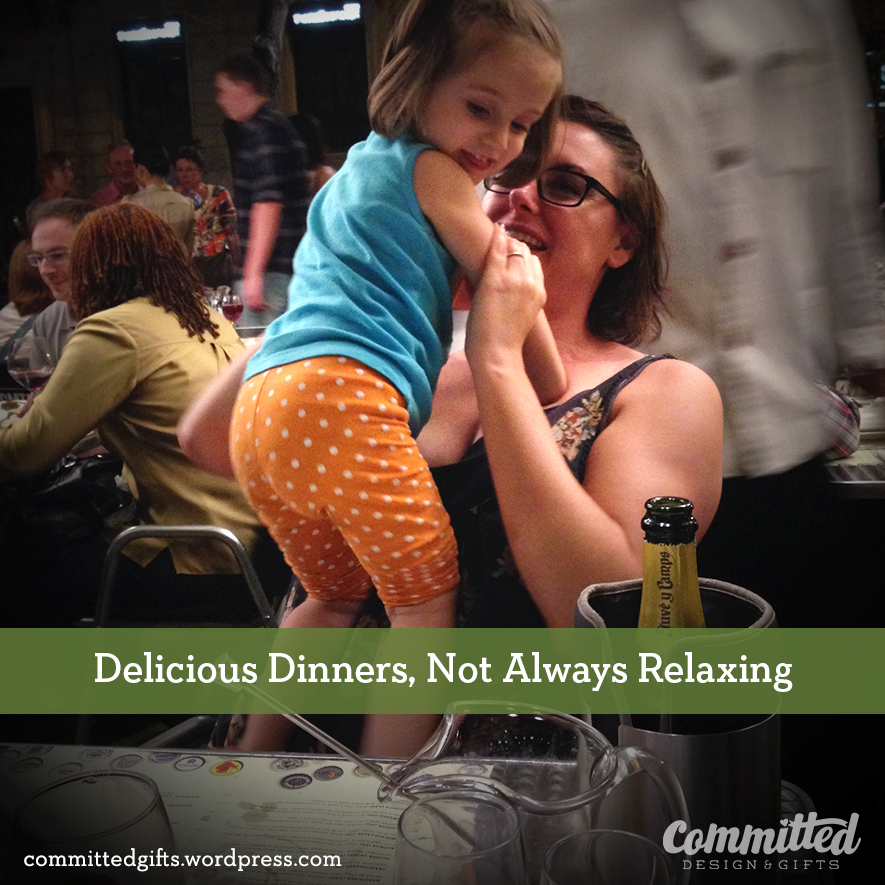 SO.
For this post, I'm going to focus on how we handled the tears and tantrums. (HINT: Wine. Lots of wine.)
We learned a few things on this trip, lessons that weren't too unexpected:
Lower your expectations for how much you'll get to see or do each day
Respect the schedule, but sometimes stretching it to experience something amazing is worth the crankiness
Staying in one place is MUCH easier than hopping cities (duh, but it was worth a shot)
Twos CAN be terrible, but they can also be amusing
Rely on your partner and take the burden if you're up to it
Talk through your plans first (ie, how are you going to get off the train? Who is carrying the car seat? Carrier on the front or back?)
The carseat & baby carrier were helpful. We were glad to leave the stroller at home.
Don't forget that you're ON VACATION and laugh and enjoy the little things as much as possible.
SPAIN + TODDLER: OVERALL
Playgrounds. A great thing about bringing kids to Spain (besides afternoon naps and delicious food): playgrounds. They're everywhere!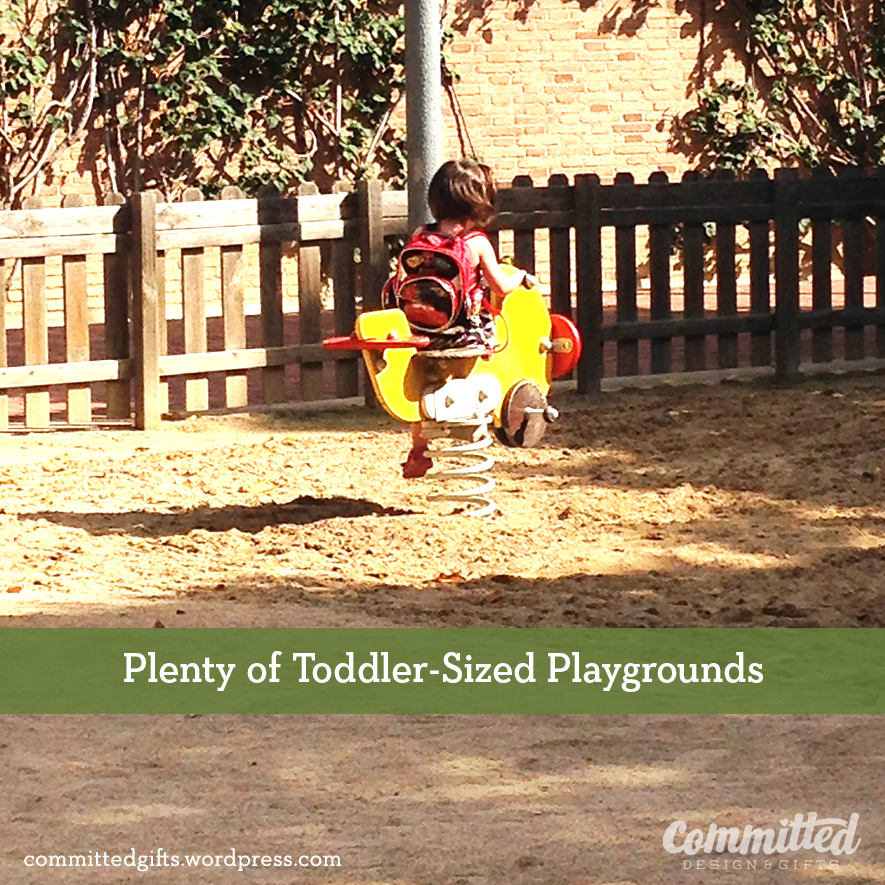 Schedule. The Spanish schedule is loosely this: lunch around 1-3, nap time/siesta late in the afternoon, tapas around 8 or 9, dinner around 10. Since we were going to be completely off anyway, we shifted naps and bedtime to accommodate restaurant hours (and so we could get out and experience some of that Spanish culture!)
Food. The food is amazing. Try tapas, exotic fruits, Iberico ham. If you're not concerned with allergies, you may find an adventurous eater in your midst!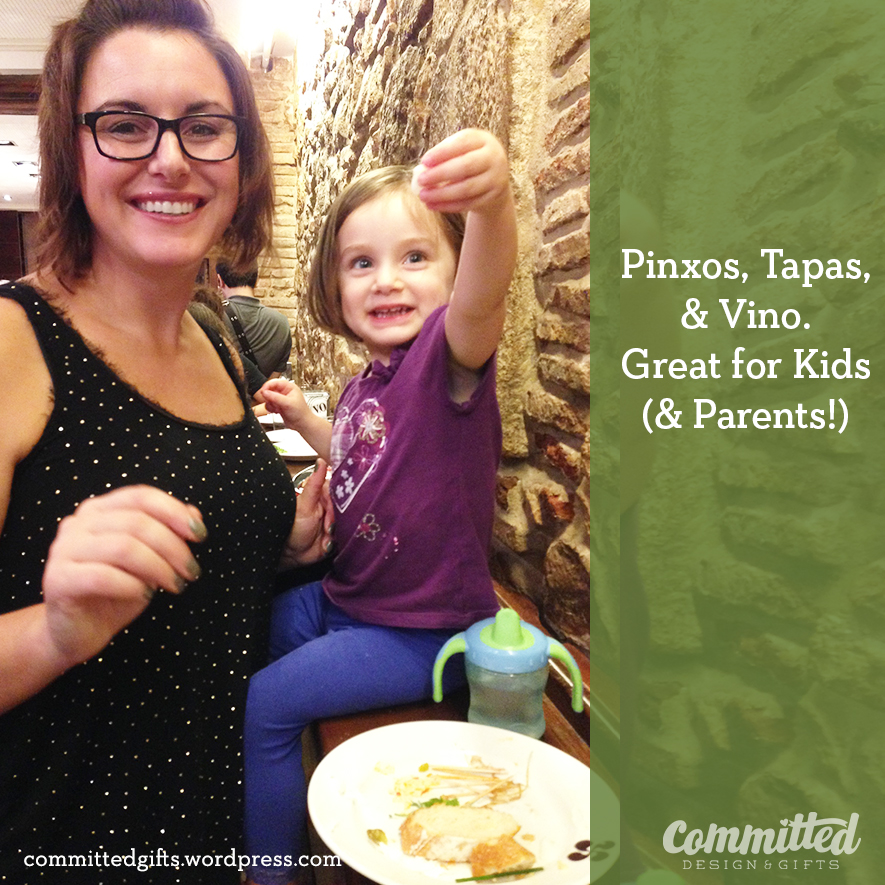 Strollers. Can come in handy depending where you are (like Barcelona), but we found most of our trip would have been impossible to use one. If your kiddo will tolerate the carrier, save the trouble and leave your stroller at home.
Sleep. While we couldn't afford suites or 2 rooms, we did find that every hotel had an available portable crib. When we used AirBnB for our stay in Seville, we did get a one-bedroom apartment and the owner found a crib for us.
Planes, Trains, and Automobiles. We brought the carseat with us. It was really handy on the big flights and in the taxis to/from hotels. On the trains it was good for comfort, but without seatbelts, it didn't really serve a safety function. On our Barcelona to Seville flight, they didn't even allow the carseat on board. We had to use the adult-size seatbelt on our tiny toddler. That was dumb, Vueling airlines. Really dumb. To haul the carseat around, we bought this little strap on Amazon and strapped the seat onto our rolling bag. Worked swell.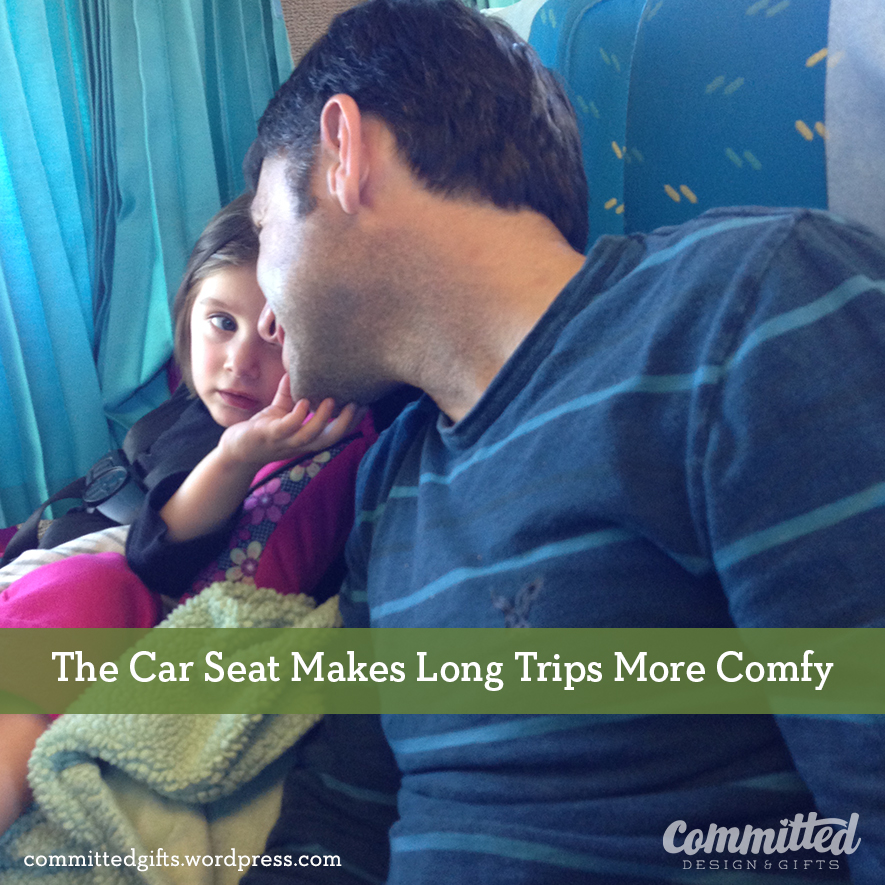 BARCELONA: Great for toddlers
You're never more than 4 blocks from a playground in Barcelona, and 90% of the ones we found were really made for little kids (like, 2 year olds). So when shit got a little crazy, we could veer off and land on a swing or a sandbox and play it out. Shout out to our friends who had already been in Barcelona for a couple of months and taught us that trick. Having friends in town definitely helped with the transition to a new city!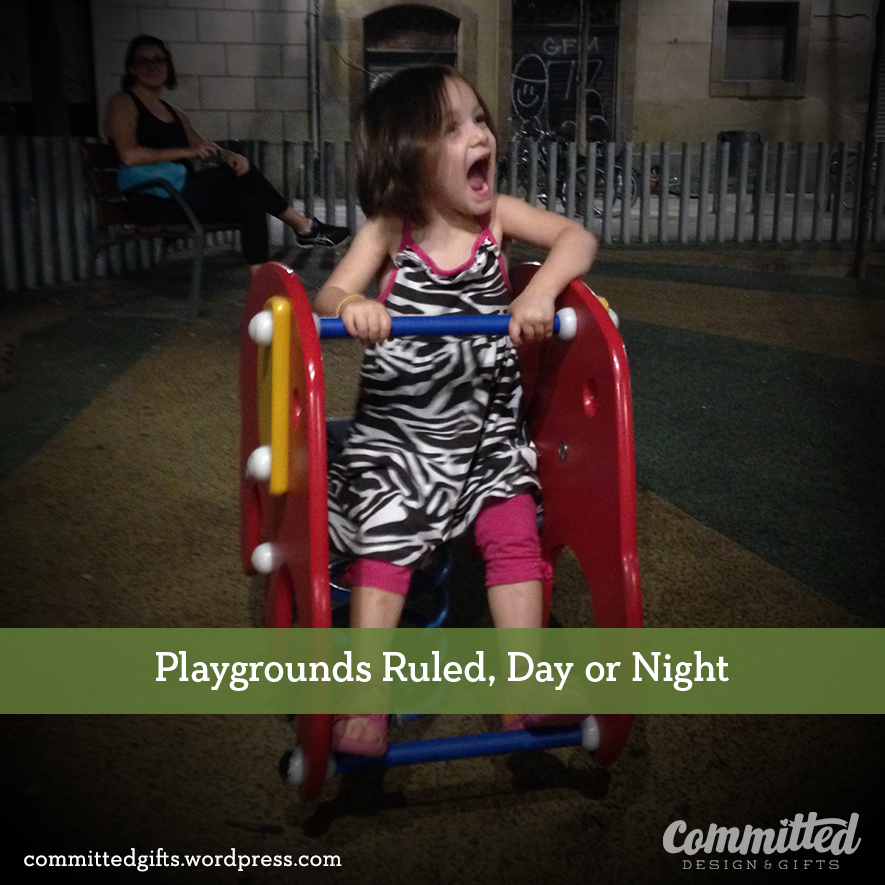 The beauty of Barcelona is in the Gaudi architecture. His work was some of the first I really connected with in art school, so I wanted to see it all in person. Unfortunately, unless it has a slide or play kitchen, kiddo doesn't care too much for it. So while we did get to visit these amazing sites, it was rushed, if not cut off completely. I still got some great photos and got to admire it all up close, but in all honesty, that kind of travel and exploration isn't well-suited to a jetlagged toddler. Again, shout-out to our friends for staying at the park with her for several hours while we toured the Pedrera. That place would NEVER have gone over, but I was thrilled to tour it.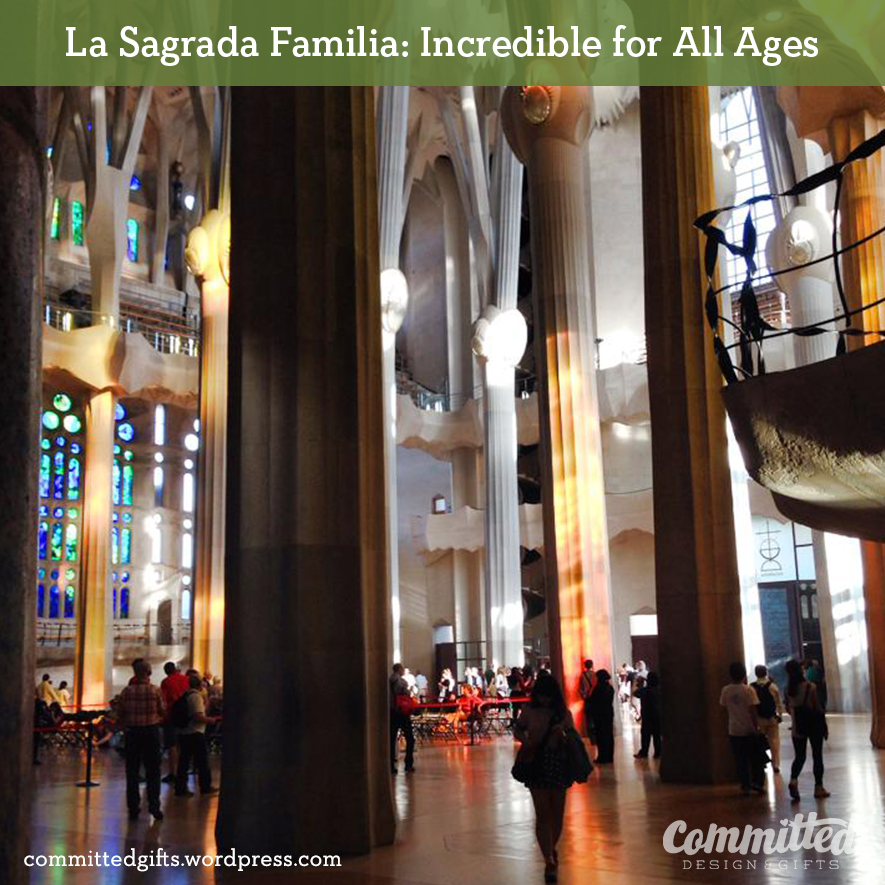 I highly recommend you visit La Sagrada Familia, kids or no kids. Inside is amazing, and outside are plenty of animals built into the facade for playing "I Spy." Kiddo was sleeping in the carrier and woke up when we went inside. Her first words were, "Is this Planet Earth?" My thoughts too, kiddo. It's amazing.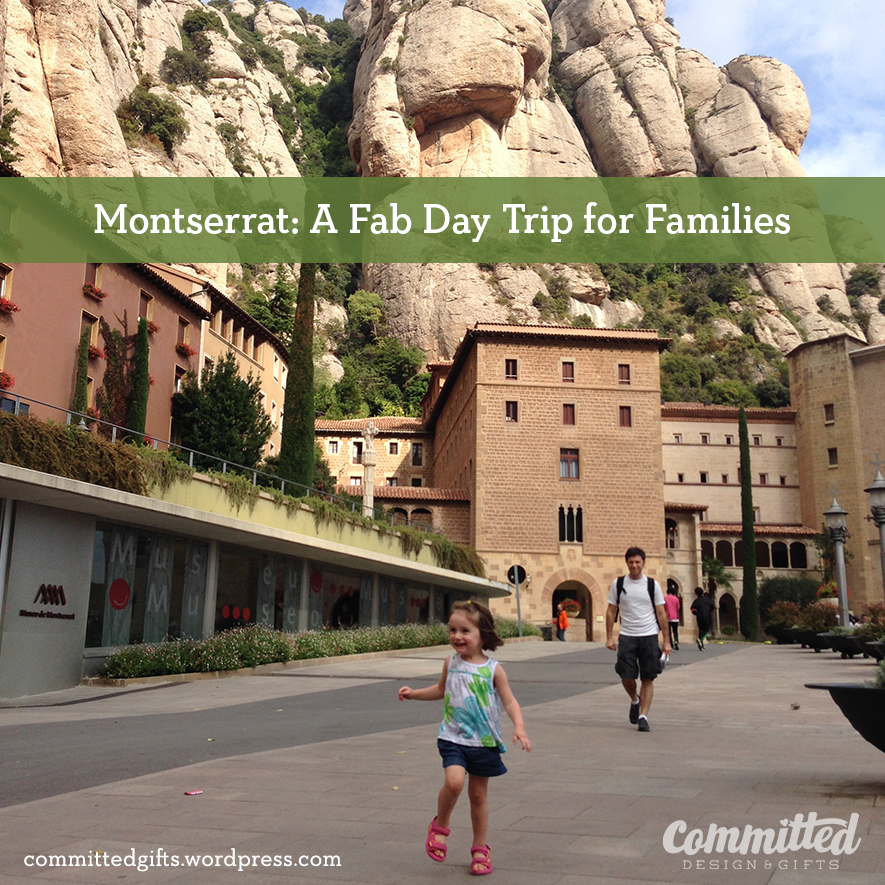 Also, a trip to Montserrat is worth it (and was great with kids). You get to ride a train, cable car, funicular, and walk the grounds and take a nice hike. Highly recommend.
Tapas and Pinxos
One thing I noticed is Spaniards eat and drink standing up. A lot. This looks cool, and is great for conversation and digestion. Not great for a squirmy kid that wants to be picked up all the time. We were determined to try pinxos (PEEN-chos) on our first night, so we squeezed into a tiny bar, plopped her on the narrow ledge against the wall, and grabbed plates of delicious finger foods from the bar. I couldn't tell you what most of it was–a roasted pepper here, some fish something there–but it was all delicious and messy and we had a good time. (Ok, so kiddo barfed after a few of these, but it was probably due to the heavy food and a long day of travel. We cleaned up and headed back to the hotel in time for a bath and bedtime).
Generally, doing tapas or pinxos works well with a toddler if you get there right at opening. Even better, if you get to popular places right at opening for LUNCH. That way, kiddo can play on a relatively clean floor by your feet without risk of trampled fingers or the need to be entertained while you enjoy some incredible food.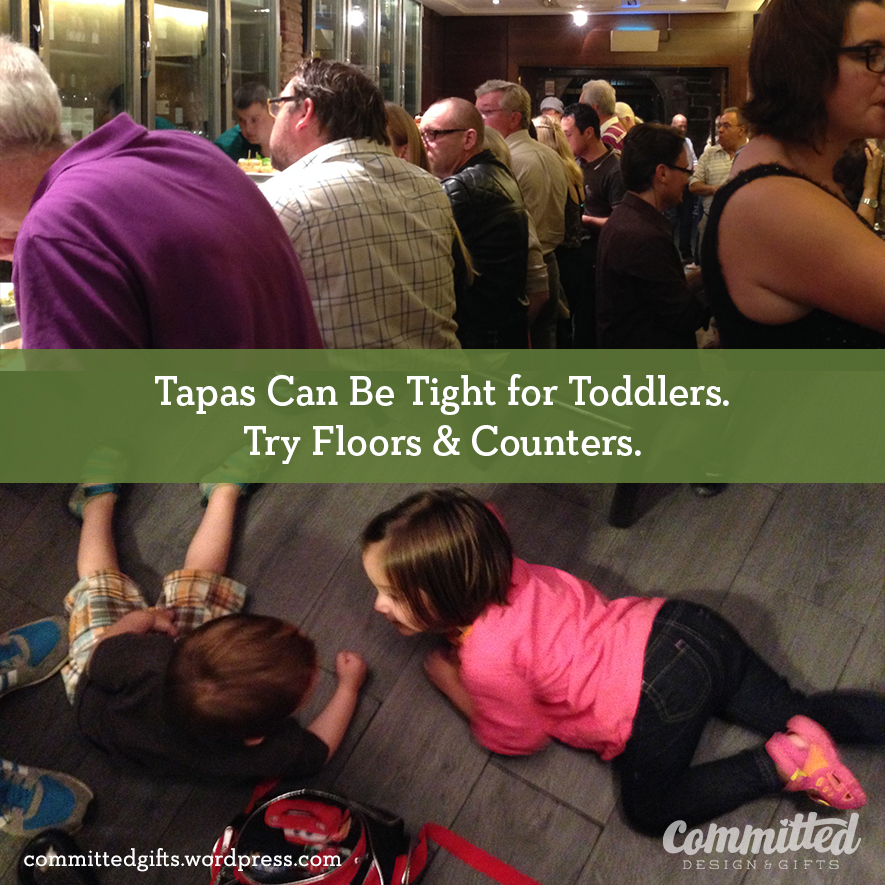 SEVILLE/SEVILLA: Great for toddlers
Speaking of tapas, I noticed that the people of Seville do this hardcore. And the kids are part of the ritual. What I generally saw was parents occupying the chairs at the table or standing at the bar, and the kids either sitting on the curb or playing in the plaza nearby. How civilized! By around 6 or 7 pm, all tables at all the nearby cafes were filled with parents enjoying a beer or wine and a light bite.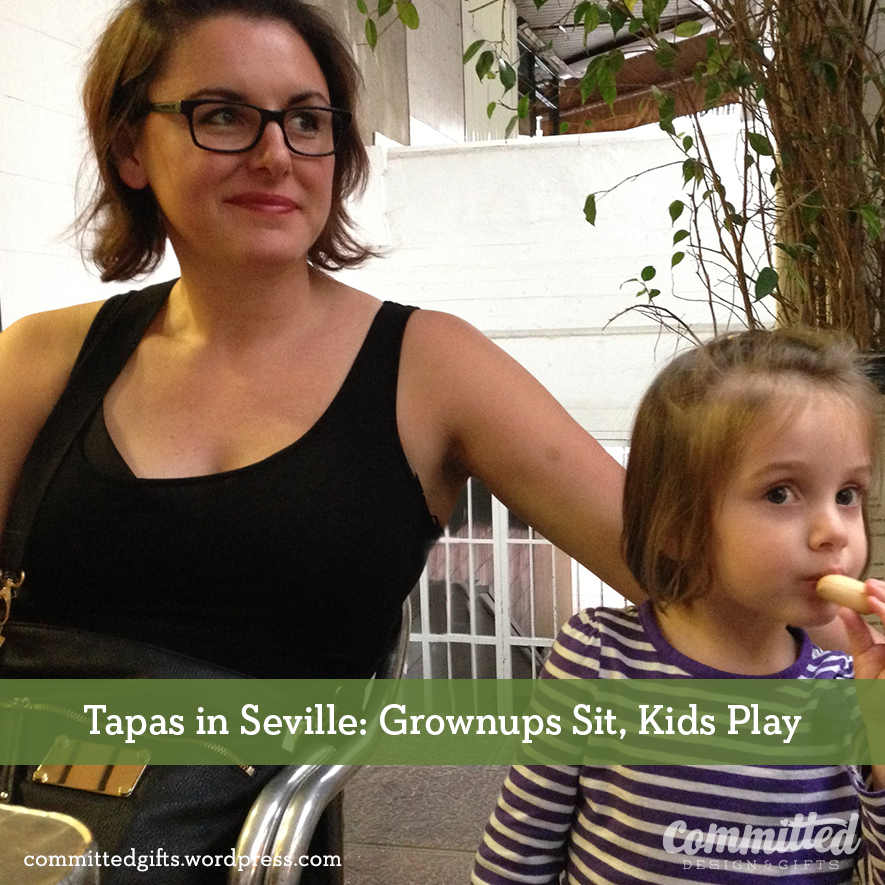 I loved Seville because it was so tight and winding, had more safe pedestrian areas for running around, and felt like a more authentic slice of Spanish life. We had only one thing on the agenda for this city: take the family to a flamenco show. Most shows are late in the evening and require food or drink purchases, but we found a 7:30 show that was only an hour long. While they typically didn't allow children under 6, they made an exception for us. I won't publish their name here, so they aren't harangued by anxious parents, but I am so grateful we were able to experience it together. Kiddo LOVED the quick footwork, the hand gestures, the clapping. It was great. If you can find a suitable show that will allow your kiddos to join you, GO!
While there weren't any spectacular attractions in Seville except for the giant cathedral, I think it was a wonderful place for the family to relax and experience another culture for several days. We stayed near the Alameda de Hercules, which is almost a mile from the cathedral, but it was all easily walkable. Spending a day just wandering the streets, along the river, by the arena, and back was probably one of my favorites.
GRANADA: Better for older children
If you have little ones, save Granada for when they're older (say 10+). It's a tiny, hilly town without many flat, car-free areas for a small child to run around. That said, it's DEFINITELY worth visiting at some point. There's a big moorish influence in the culture, the tiny winding vertical streets are fun for hiking, and the vistas are beautiful. The one main attraction of Granada is the Alhambra. Again, truly gorgeous and difficult to get into (you need to buy tickets at least a week in advance, if not earlier), but really not a kid-friendly spot.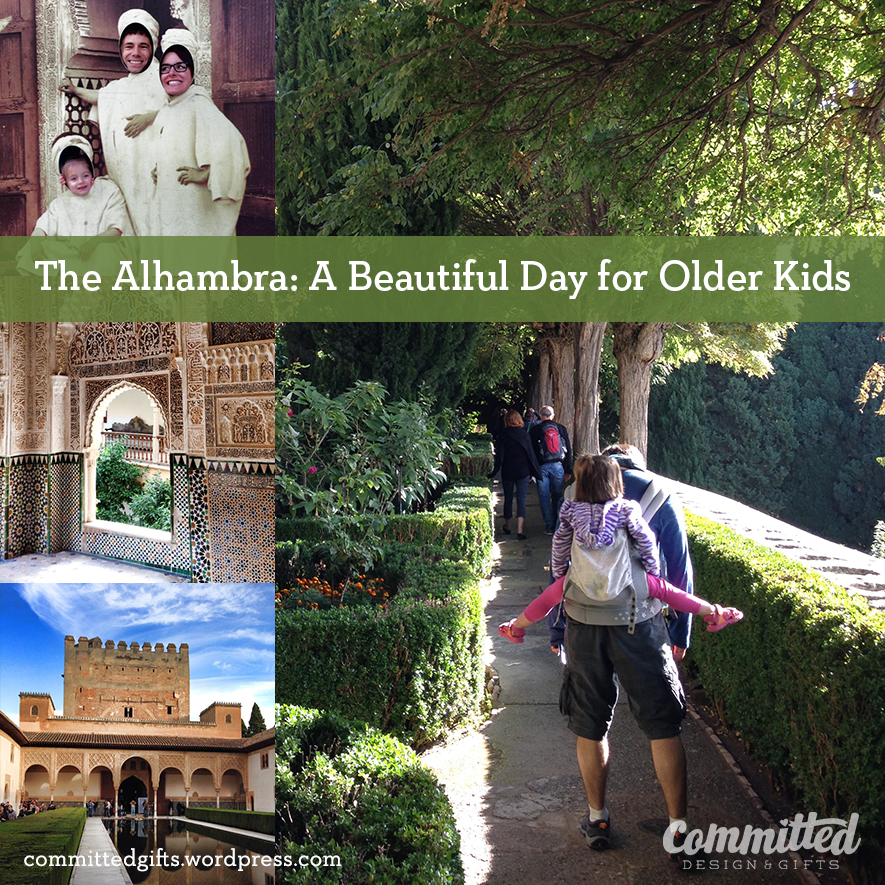 Another reason to bring your older kids here: Hammam Baths. My husband and I each took an afternoon for a solo visit to visit the baths, to get a massage, and generally chill the *f* out. It was heavenly. The great thing is you can bring the whole family. I saw mostly families with their kids, soaking in the various hot tubs and cool pools, relaxing in the steam, getting a scrub or massage. So bookmark that one for another time. I think it saved our sanity and our marriage. Ha! So I guess that's another tip: Take some time for yourself (or yourselves).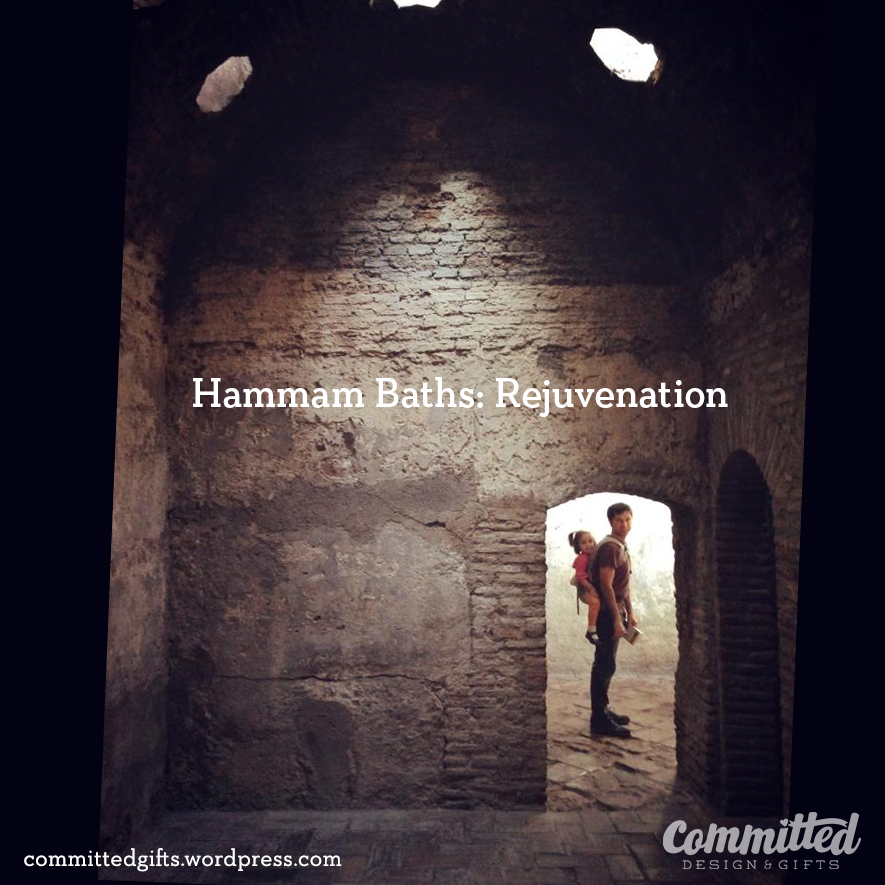 MADRID: Okay for toddlers
We were ready to be home. Living out of suitcases and navigating tantrums was tiring. However, we did land in Madrid on Halloween, which was bittersweet. Before 8 pm we saw 2 bananas, a witch, and a skeleton. After 8pm, it was ON. While crowds aren't my thing, it was fun to see large clumps of teenagers made up.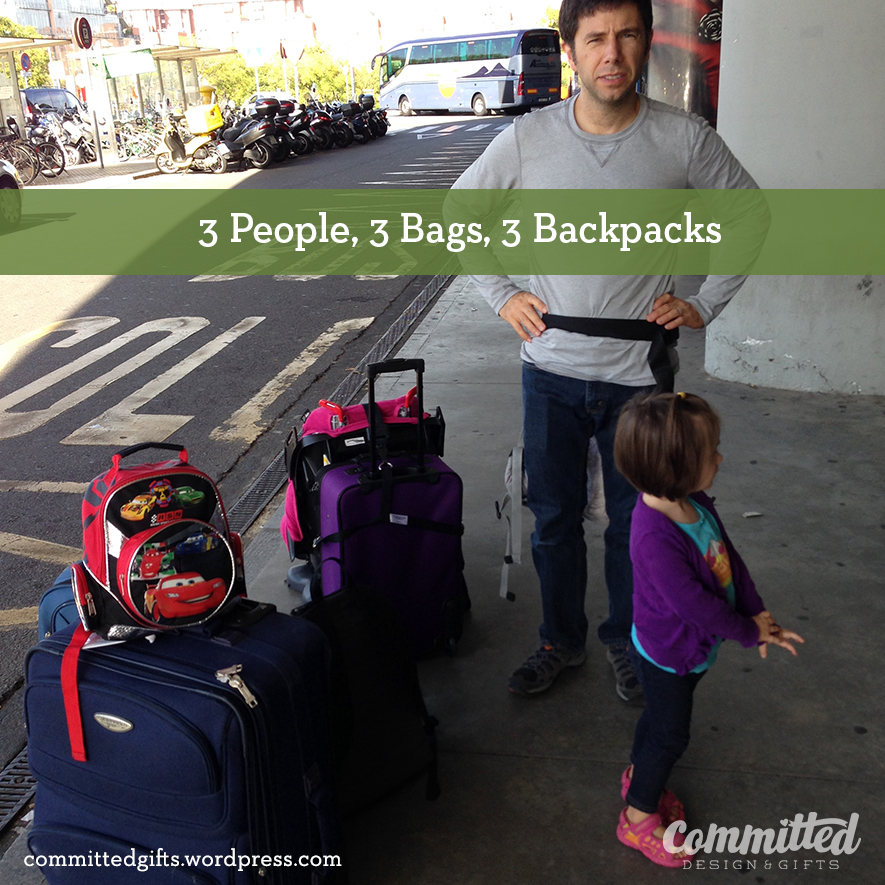 Here's how we survived Madrid: we got a room with a terrace. It's a small thing (and was cheaper than other rooms I'd looked at!), but having a separate space from the crib makes a huge difference. Plus we were able to soak up some sun and nap ourselves. It was great. We also did a lot of walking and didn't put any sites on our agenda. When it was time to stop and run around, we stopped to run around. When it was time to eat, we just ate. (But we ate well. Yelp did play a big part in finding good food nearby!) The Mercado de San Miguel was a great place for a tapa adventure, even for little ones.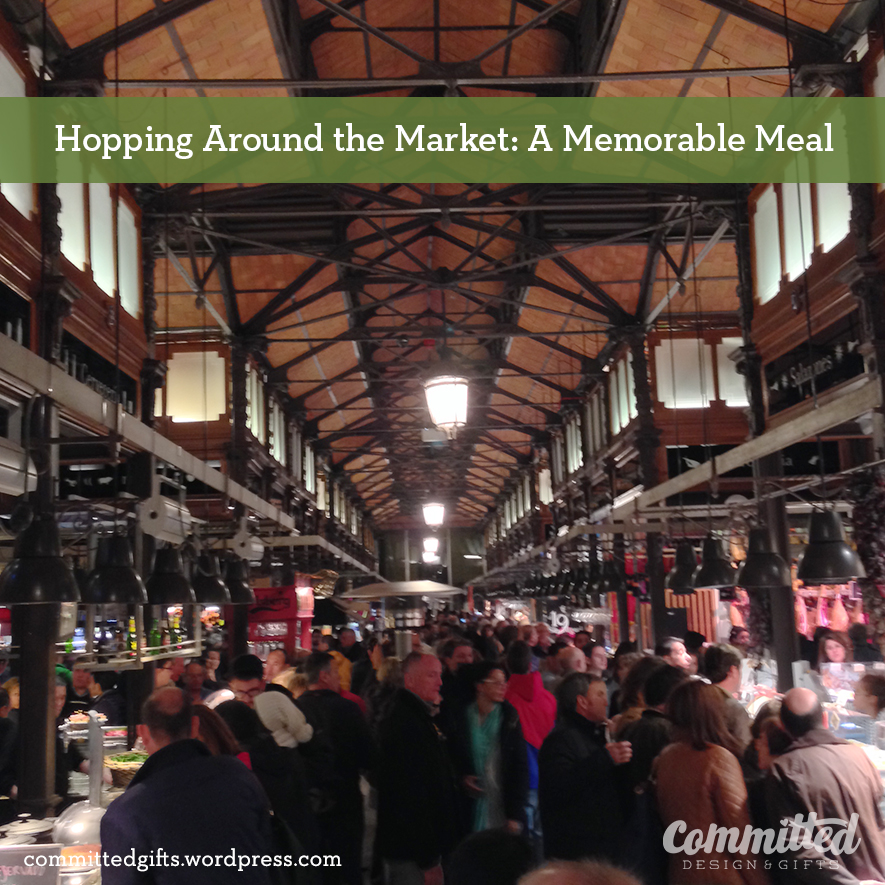 FINAL NOTE ON TRAVELING WITH A TODDLER:
Don't pass up the chance to travel with your toddler! We made some great memories and had some wonderful experiences. Just take it easy, don't try to be so ambitious with sightseeing, and know that you can always come back. Enjoy spending time together.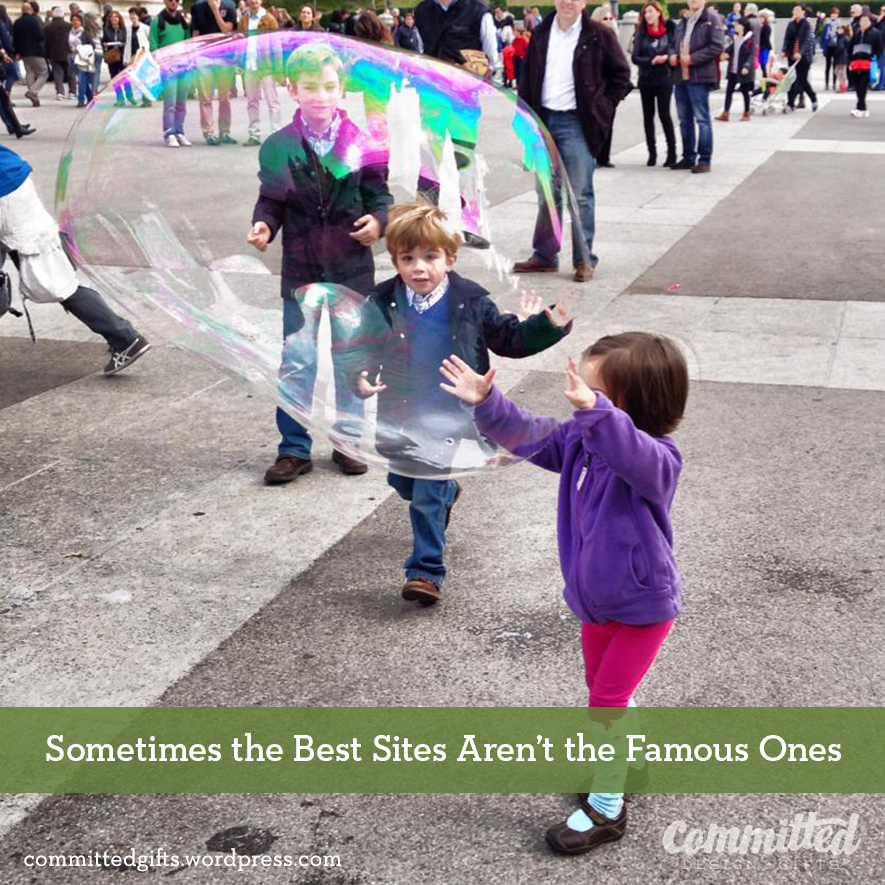 …And drink lots of wine.