It's sadly belated, but I'm finally posting my guide to hosting a successful gingerbread house party for grownups.
As I mentioned in this post, I revived my mother's holiday tradition of hosting gingerbread house decorating parties for me and my friends by creating a grownups-only version 5 years ago. I don't know if it's the nostalgia, the tradition, or the few uninterrupted  hours of just-for-fun crafting and hanging out with friends that makes it something I look forward to every year.
There's quite a bit of prep, however, so I figured I'd share my tips and tricks with you in case YOU lovely readers decide to someday host your own version of this party. Now that I have 5 parties under my belt, I've got it down to a pretty efficient science.
1) Supplies
Graham crackers (we  don't use actual gingerbread–too much time and effort!)
Icing (I'll give you the recipe below–it's tricky): egg whites, powdered sugar, cream of tartar
Per 3 piping bags, you'll need: 1/2c egg whites, more than 6 1/2 c powdered sugar, and 1/2 t cream of tartar. FYI, 2lb of powdered sugar = 7 1/2 c.
Quart-size Ziploc-brand bags for piping the icing (get as heavy-duty as possible, don't go cheap on these)
Foam core for bases, cut to about 10″ x 10″
20-50 bowls for organizing decorations (recyclable or biodegradable if you can)
Disposable tablecloths
Cutting boards & butter knives (to cut the graham crackers)
Several pairs of scissors
A few bottles of something to drink & savory appetizers (ask guests to bring something)
A couple of decoration basics to get started (licorice, mini candy canes, Hershey Kisses, pretzels, colored writing frosting, some sprinkles, etc). I FINALLY had a Costco membership and picked up a massive bag of hard candies, a tub of Jelly Bellies, and another bag of mixed candies (mini licorices, Nerds, etc). That would have actually been plenty for the 8 of us.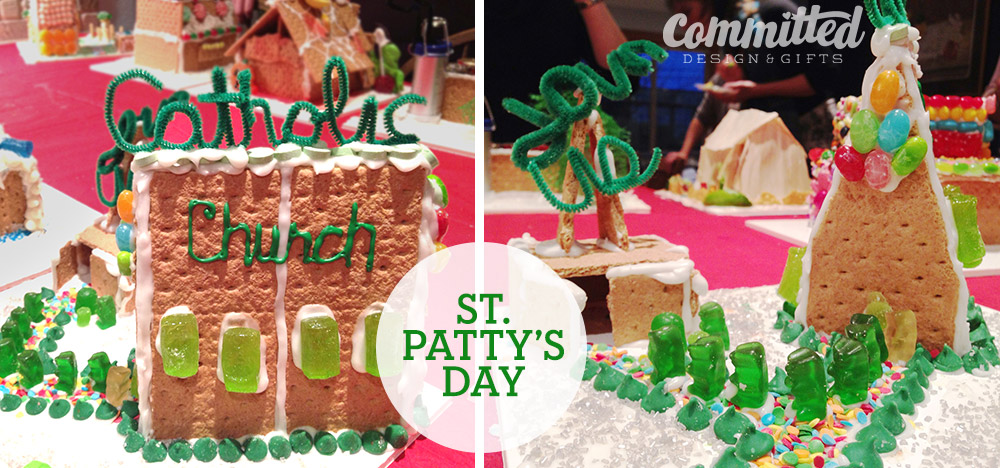 2) That Damn Icing
Please learn from my experience. I've burned out TWO hand mixers (as in SMOKE, then KAPUT), destroyed piping bags, have had houses collapse, and it's all that stupid royal icing. Yes, I can curse it because that shit is a BEAST. It needs to be SUPER THICK in order to be structurally sound, but make it too thick and you'll break appliances and bust your piping/Ziploc bag. So, here are my tricks to make boatloads of royal icing.
Use a food processor. The motor in that thing can handle it, and if you have an old one, even better.
Work in small batches. Expect only to fill 2-3 bags per batch. 2 is better.
Buy the cartons of egg whites. Don't try and separate 3 dozen eggs. You'll want to stab your eyes out with the shells.
Don't bother sifting the powdered sugar. It's for suckers.
Measuring is also for suckers.
One batch makes about 3 bags worth:
– 1/2 c egg whites (use the cartons of pre-cracked stuff)
– 6 1/2 c powdered sugar (you'll end up using about 2 lbs)
–  1/2 t cream of tartar
Pulse several times, then mix well. You will need to add more sugar than this, but blend everything first before adding more. You want it to be like near-peanut butter consistency. Flip the quart-size bag inside out over your hand and spoon frosting into the bag. It dries QUICK, so get it into sealed bags ASAP. And once you've made a batch, either just start the next batch -OR- wash the food processor and go back to it later. Otherwise you'll cement your blade to the container.

3) Theme
The last four years we've had a theme. This helps to narrow the field a little and keep people from getting too overwhelmed. It also can give some cool, unexpected designs! Previous themes have included: 
"Champagne Wishes and Caviar Dreams: Lifestyles of the Rich & Famous (aka Build Your Dream House)." 

We sipped bubbly and ate fancy cheese while we dreamed of our candy homes.

"Choose Your Own Adventure." I generated about 20 themes and put them in a hat. Whatever you drew, you had to build! Some of the themes were: Spring Break, Into the Woods (cabins, camping, etc), Haunted House, Barbie's Dream House, Miami Vice, Get Political, White Trash, Tropical Getaway…and so on.
"Holiday House." This sounds obvious, but it actually referred to ANY holiday! Easter house, St. Patty's Day house, Cinco de Mayo house, Arbor Day house, whatever holiday inspires you!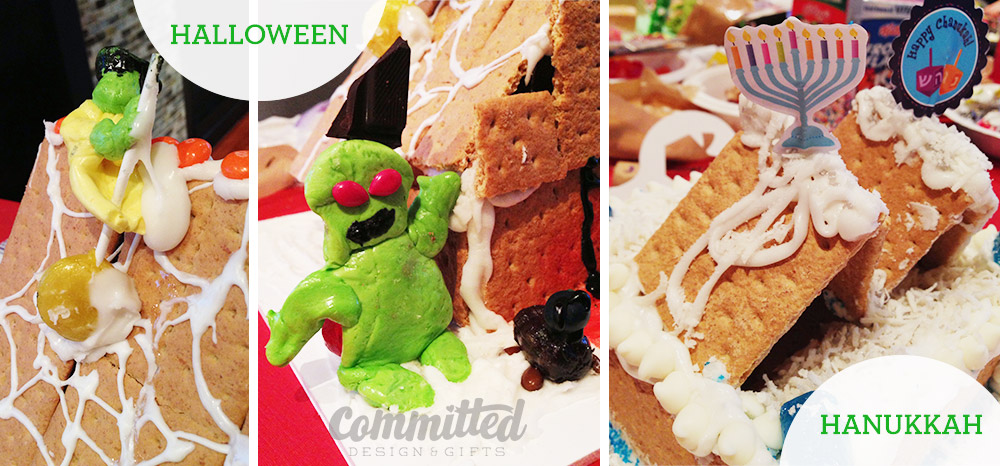 5) Setup
Everyone gets a piping bag, a foam core board, and one sleeve of graham crackers to start. To use the frosting, snip a TEENY-TINY corner off the bag when you're ready to start. I can't stress this enough. You can make the hole bigger, but you can't make it smaller. Also, exposing the frosting to air allows it to harden quickly, so keep the bags sealed until you're ready to roll.

4) Awards
There are always awards for various categories. The prizes are just white elephant-style goodies. The fun is in showing appreciation for everyone's creativity! When everyone is finished with their creations, we line them up, and everyone tells the story of their house. Extra points for great storytelling!
Best Craftsmanship— Martha would be jealous
Best Backstory—It may not be pretty, but it is pretty funny
Most Themey—Whatever your theme may be
Best Dream House—Can I move in now?
Most Delicious–House I'd devour if there weren't all these people here
Write-in Award–I love this house for the following reason:
(They won't get an award, but they'll probably blush when this is read aloud.)
Click here to download a pdf of the voting sheets. When tallying the votes, give their #1 choice 2 points, and their #2 choice 1 point.
5) Have a Little Help From Your Friends
Ask your friends to bring a few things to help make the party and designs a success. I always ask people to bring 2 decorating items to share (this is important! If anyone has a theme in mind, they still need to bring enough for others to use) and a bottle of something to drink. This can get a little dangerous, not that I could tell you what being hungover at 6:30pm is like, wink wink. But really, just those 2 things are insanely helpful.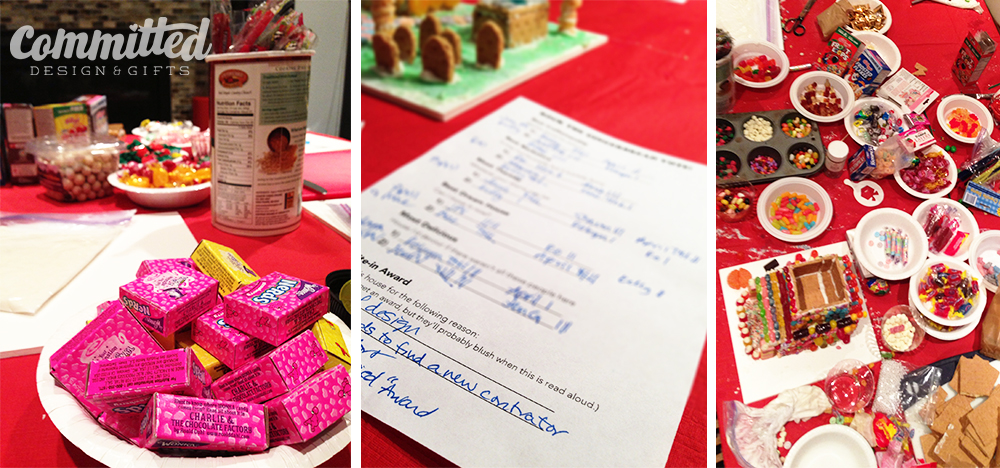 And that's it! You'll end up with a beautiful decorative piece-slash-dessert and have a nice time hanging with your friends!
What holiday traditions would you like to share?