How was fruit and veggie week? In the spirit of keepin' it real, I did it, but not as successfully as I'd hoped. I did manage to get all my servings, but I also went above and beyond when it came to eating junk. I'm not even talking about the candy at this year's gingerbread party, I mean the cheese, the puffs, the crackers, you name it, I craved it. And I caved. At least I'd alternate carrot sticks with coffee cake, but feeling out of control of what's going in my mouth is a little frustrating! I can only imagine what would have happened to my health if I hadn't had the onus to load up on nutrition too! I felt a little bit of a cold coming on, but I think I nipped it in the bud with some wonderful essential oils (Thieves, to be exact) and a new resolve to treat myself well.
Moving along and looking forward…
This week's challenge: Abstain from eating your favorite indulgent fatty food for 6 days this week.
I'm not gonna lie. This one's a toughie.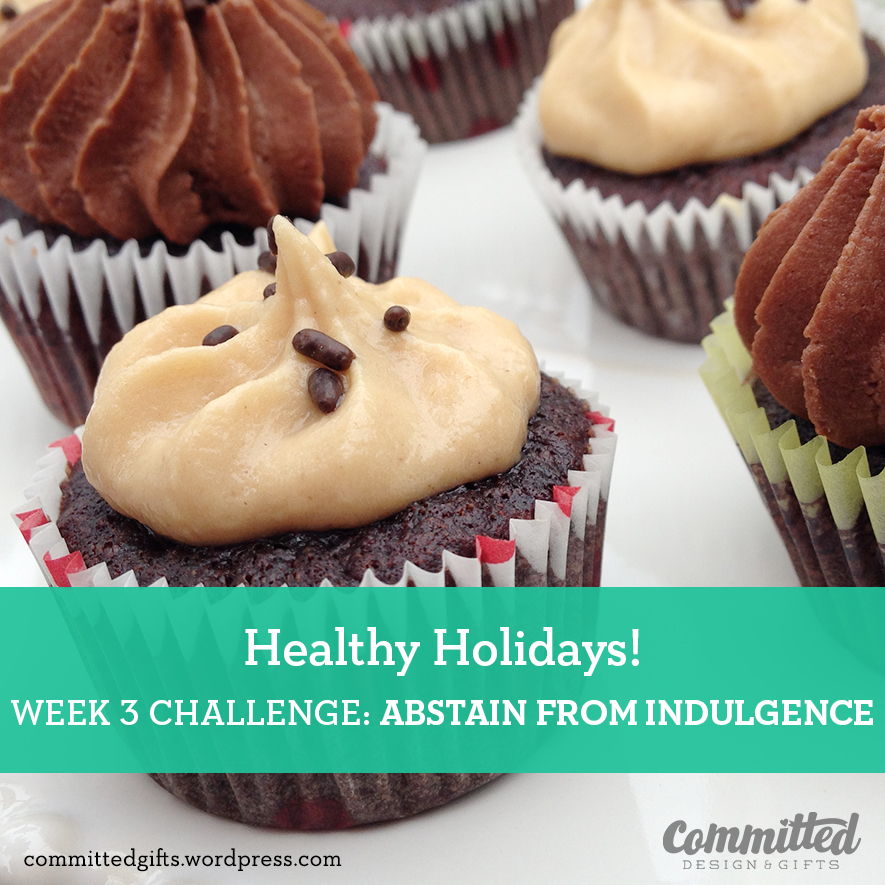 Here's how it works: check your calendar for the week. Are you going to a big party? Do you want to indulge on a certain day? (Do you have a performance review and would love to hit up a happy hour after for some nachos?) Then pick that day to be your "cheat" day. This is kind of a "giving up for Lent" exercise, but is more about examining what drives you to overconsume a certain food and face your—ahem—addiction to it.
(To be fair, the photo is of some delicious vegan cupcakes by the talented Claudina in West Seattle. They're a healthier alternative to the usual, but they look really naughty, right?)
I'll say, I'm addicted to chocolate. And not in the "OMG! I'm SOOO addicted to chocolate! I eat like, 3 brownies in one sitting!" I mean, the crackhead, gets the scratchies, eat-it-til-I-get-sick-or-there's-none-left type of addiction. It's lifelong, and gets worse during the holidays.
HOWEVER. I've noticed that lately, I'm craving sugar. Any craptastic crap that has sugar. And all the research is pointing to processed food and added sugar being a major factor in the obesity crisis in our country. I'm not soapboxing, I'm realizing it. I need to give up all foods with added sugar or sweetener for the week. You heard me. No added sugar for 6 of 7 days this week. And yes, I'm making vegan cookies (probably these) on Wednesday, with a class party for the kiddo on Friday. So, no cookie dough or licking the beaters, but Friday is my "cheat" day. And you'd better believe I'll be cheating my face off. What I'm hoping to achieve is to know I can do this. I got it beat. And it's only 6 days. So maybe it won't be so bad, and when I get the chance to go back to it, I may not crave it as much.
So, if you haven't already, Print out your pdf and write down what you're giving up this week, and which day will be your "cheat" day. Is it chocolate? Cheese? Cookies? Pie? Beer? Do tell!
What is your favorite indulgent fatty food?
Feel free to comment here, tweet, or pin your progress!
Cheers!
Please note: I am not a health professional. I am not a trainer or dietician. I am a fitness enthusiast. If you embark on a new fitness or diet regimen, please consult your doctor and pay attention to your body and health. This is a social challenge to encourage health and fitness through the holidays. Your choice to participate is not the responsibility of Committed LLC.