Lately, I've been losing my patience. With so much to do, I want to GET SHIT DONE NOW.
But having a 2-year-old doesn't allow for things to get done right away.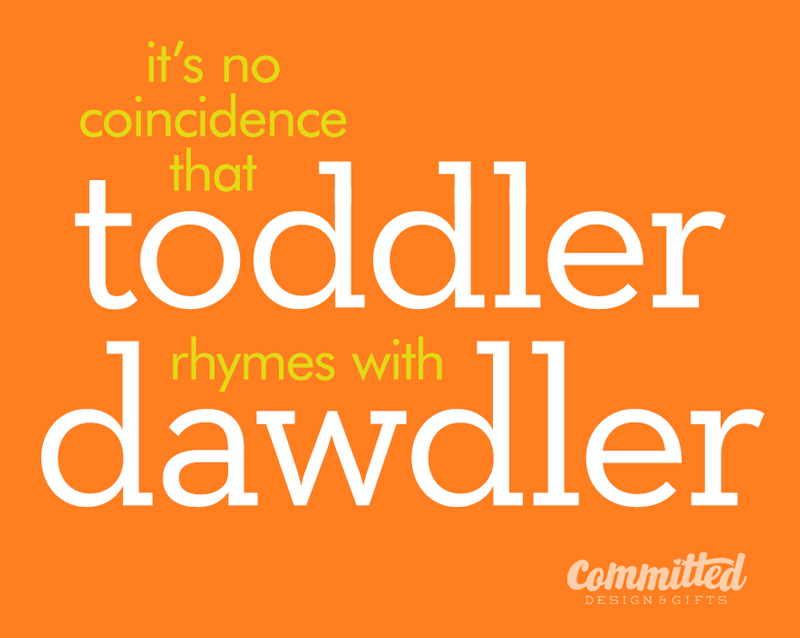 Luckily, I stumbled across The Hands-Free Mama blog, and learned that I need to stop, observe, relax, and enjoy the little moments. Even if it means being late to everything. So the last few days, I've been trying to let some things go and learn from my daughter:
1. Sit down at the table to eat. Dirty counters and stacks of dishes can wait.
2. Leave toys out for a while. 
3. Sitting to snuggle for 5 minutes and being late is better than no snuggles and being on time.
4. Dance every time you hear music. Or make your own music if there is none.
5. Let imagination rule. Don't worry about being correct all the time. 
Basically, SLOW the F DOWN. Let things get messy. Have more fun. I must be honest, though. This is really tough for me. As I was sitting at the little table, enjoying a pleasant breakfast with the kiddo, all I could see was the crumbs on the counter staring me down, mocking me:
But it was worth it because we got to goof around and spend a few minutes eating a good breakfast together.
So what about you, good readers? What have you learned to let go of in order to enjoy your family or friends?