In case you haven't noticed, the holidays are HERE. So are the cookies, candy, cheeses, gingerbread lattes, overflowing buffets, and festive cocktails. I struggle with overindulgence during the holidays and have found it necessary to set boundaries and rules for myself to stay healthy. You may have heard that the average American gains 4-12 pounds in the 6 weeks between Thanksgiving and New Year's.
Full disclosure: one year, I gained fourteen pounds in twelve days. THAT'S ONE-FOUR. As in, I averaged an intake in excess of 3500 calories above my normal intake Every. Single. Day. Enter the Maintain, Don't Gain Holiday Challenge.
You can do this with friends, coworkers, family, or just yourself. It's simple, but not necessarily easy.
*~*~*~*~*~*~*~*~*~*~*~*~*~*~*~*~*~*~*~*~*~*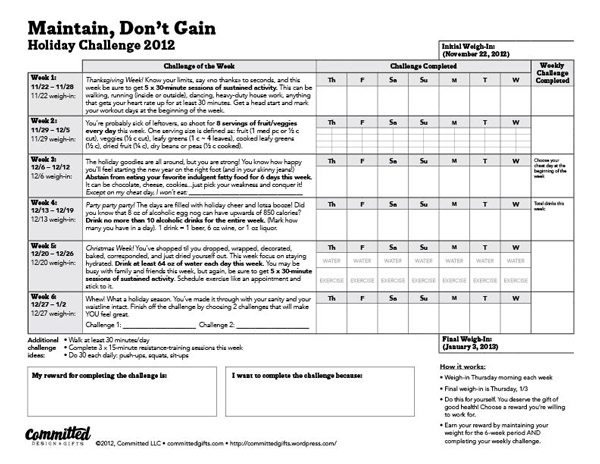 *~*~*~*~*~*~*~*~*~*~*~*~*~*~*~*~*~*~*~*~*~*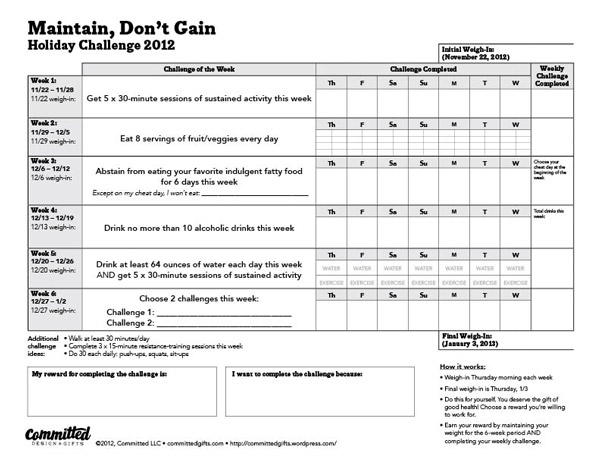 *~*~*~*~*~*~*~*~*~*~*~*~*~*~*~*~*~*~*~*~*~*
How it works:
Download and print the version that's easier for you to follow and write down your reward for completing the challenge. The challenge runs from Thanksgiving until after New Year's (1/3/2013). In order to earn your reward, you need to complete the weekly challenges (exercise, abstaining from alcohol, or eating healthy) as well as maintain your weight (aka–don't gain any weight over the holidays).
Weigh-in on Thursday mornings and each week track your progress for that week's challenge.
While I will not be posting my weight publicly, I'd like to do this challenge along with you, my readers. I'll be posting my progress and struggles each week. Feel free to comment with your own maintenance tips for the holiday season and try the challenge.
I've been doing this with a friend now for almost 5 years and it's been really successful for me.
Happy Maintaining!
*~*~*~*~*~*~*~*~*~*~*~*~*~*~*~*~*
You can also download the pdfs here:
*~*~*~*~*~*~*~*~*~*~*~*~*~*~*~*~*