I've been dying to write this post, but every time I start, it spins out of control. There were so many cool things we experienced in the city that I want to share them ALL.
But I'm going to try and contain this post to "The Unofficial Committed Survival Guide to Playing Tourist in Tokyo with a Toddler." Or something more concise and eloquent.
TIP #1: Stroll-ing, Not Stroll-er
If you are able-bodied and undeterred by extra sweat, strapping your kiddo onto your back with a pack (such as the Ergo) is the way to go.
There are several decent arguments for leaving your stroller behind:
1) Stairs everywhere
There are stairs to cross the street, go down the street, to get to your train, to get into shops, to get through shops.
Indoors there are usually elevators, but not always. You'll also be jockeying for a spot if there are other strollers waiting.
2) It's crowded
This isn't true everywhere, but in some busier areas and times (read: rush hour, after work, or tourist areas on weekends), you're navigating a gauntlet of power walkers with your toddler out front. And even though there are tons of people, they are walking FAST.
TIP #2: You ARE the Tourist Attraction
We were just checking out the trinket stands around Asakusa when I noticed a man taking video of me with my daughter on my back.
She was chattering away, smiling and waving, unaware of her impending local fame.
Soon, another man was taking photos, then a woman stood next to us and posed for a photo. It was entertaining, but started getting a little crazy. It was fine to say a "Sumimasen" (excuse me) and "Arigato" (thank you) and take off. Generally, everyone was respectful of our personal space and just said "Kawaii!" and maybe tickled her hands or waved. Little old ladies absolutely LOVED chattering with the baby.
TIP #3: Park It
A crowded busy city street is not necessarily the best place to let an antsy toddler run to around, but there are many many parks around town to visit. Like I mentioned in my last post, we stayed next to a Nature Study area with wide paths and chirping birds. I also came across several playgrounds and smaller parks with open space for running around. And though it may not be the greatest sign of respect, finding a remote corner of one of the temple areas or a shopping mall can serve as viable get-the-ants-out-of-their-pants venues.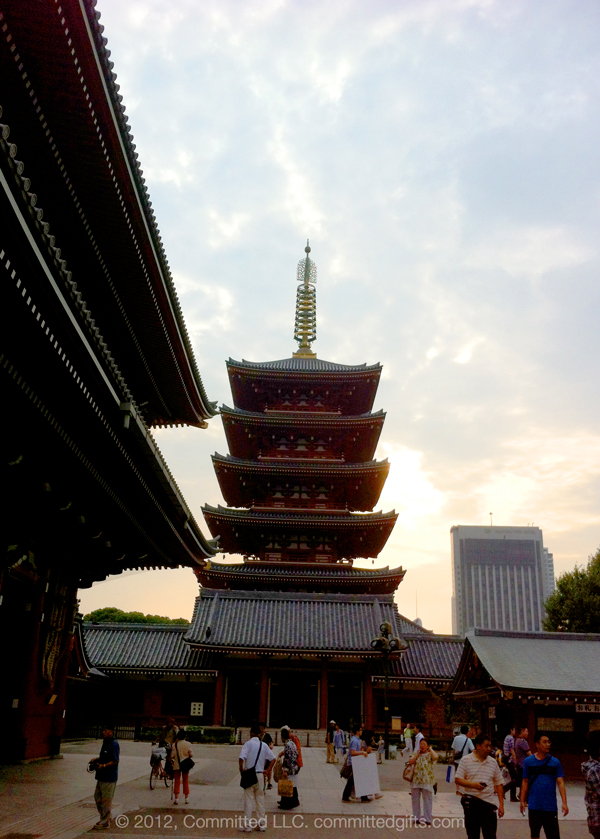 TIP #4: Get off Your High (Chair)
Though it was apparent that kids are a treasured part of the city, there aren't a lot of high chairs in restaurants.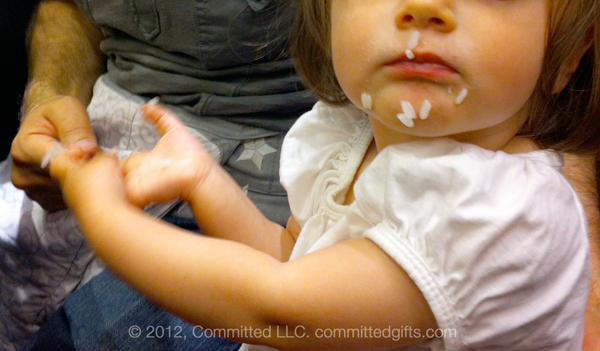 After a couple of squirmy sessions of lap-holding and concurrent feeding, we stumbled across this in the kids section of a department store: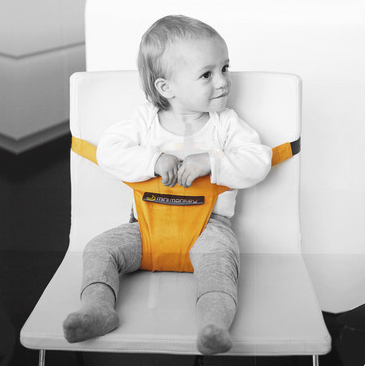 I don't know if anything like it exists in the US, but it was a total lifesaver and worth the $40.
It's a simple piece of padded fabric that clips onto a variety of chairs and folds up SO SMALL. We're taking this thing everywhere we go now. I swear. Genius.
TIP #5: Thirsting for More
There are vending machines on every street corner. Your drink needs are typically covered, unless you're an enthusiastic drinker of 15 months. She's mastered the sippy cup, but the water bottle tends to end up soaking her shirt (and stroller, and socks…) At Tokyu Hands store, we found this adorable bear water bottle:


The head flips up to reveal a silicone flexible straw. Now my daughter asks for "Beew? Beew? Waba?" She loves it as a toy and a water bottle.
I hope this unofficial guide helps you prepare for your international travels, whether they're in Tokyo or beyond.
What other toddler survival tips do you have for visiting Tokyo or other busy cities?